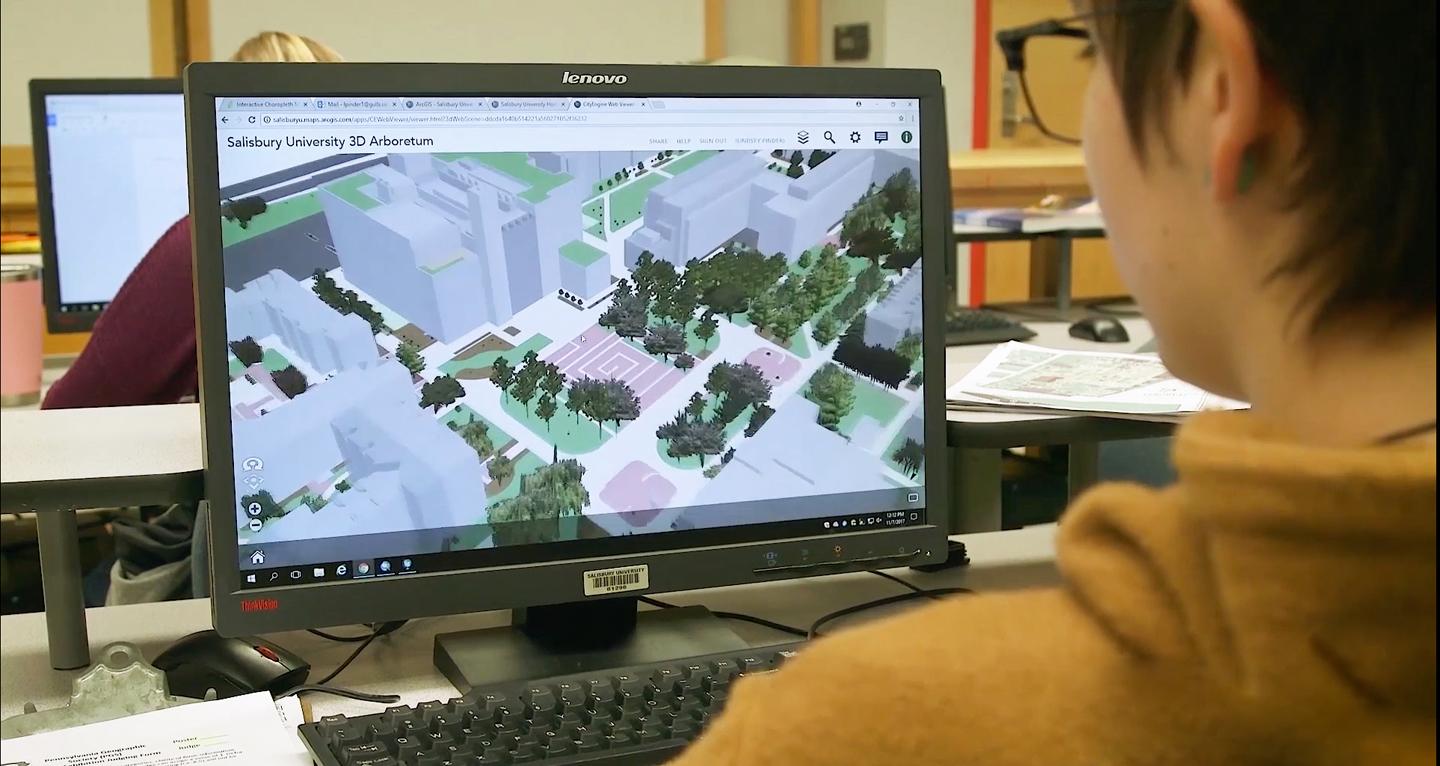 Urban and Regional Planning Program
Our environment influences how we talk, live and grow. Cities are a tangible part of your world that become part of your daily life: the school where you grew up, your favorite grocery store, that graffiti-covered traffic sign you pass on the way to work, that old man always sitting on the park bench. City planning is not just about the buildings or roads, but the environment we build and how we interact with it every day. With an urban and regional planning (URPL) degree at Salisbury University, you can help create these worlds within worlds.
Why Choose Urban and Regional Planning at SU?
Planners use their expertise to find creative ways to resolve urban and regional problems, establish sustainable communities and improve the quality of life. They help communities develop their visions of the future and formulate plans that respond to community needs and goals, conserve natural resources and improve public services. A planning degree enables you to be involved in public and private activities that shape the future of your communities.
One of the unique characteristics of the URPL program at SU is its multidisciplinary curriculum, giving students a broad foundation for their future career or postgraduate studies. Core classes give students a solid background in planning and related disciplines, while classes focused on land use planning or environmental planning fulfill nationwide requirements. A variety of minors allows URPL majors to further tailor their degree to their interests. Minors include:
Conflict analysis and dispute resolution
Environmental studies
Economics
Geography
At SU, our students get real-life experience. Students work with faculty on planning research projects to address urban and environmental challenges. They are involved in community projects to resolve real urban problems. Many students participate in planning internships to gain professional experiences in the field. Students participate in the Smart Growth Club activities that seek to raise community awareness of environmental problems.
Our alumni are employed in state and local governments, and work with private and nonprofit organizations. A significant portion of our alumni have attended graduate schools. Some examples of recent employers include:
Baltimore County Department of Planning
Baltimore Office of Sustainability
GMB Architects/Engineers
Howard County Department of Planning and Zoning
Maryland Department of Planning (MDP)
Montgomery County Planning Department
Town of Easton, Planning and Zoning Department
Warren County Planning Department
Wicomico County Department of Planning, Zoning and Community Development
Tracks
After completing core classes, students in the URPL major then follow one of the two planning tracks and complete the additional requirements.
Careers
Our program prepares students to compete for professional planning jobs in the private and public sectors, and to pursue graduate education. With a bachelor's degree, you could become a junior or assistant planner, but you could also go on to become one of the following:
Civil Service Administrator
Community Development Worker
Environmental Manager
Landscape Architect
Planning and Development Surveyor
Project Manager
Sustainability Consultant