John R. Hargreaves Distinguished Legislative Fellow Program
The John R. Hargreaves Distinguished Legislative Fellow Program is a unique program in the state of Maryland, providing an opportunity for a distinguished member of the Maryland General Assembly to engage Salisbury University students in practical, civic education about the nature of representative democracy and the benefits and burdens of public life over the course of a year. The program began in 2001.
Current Recipient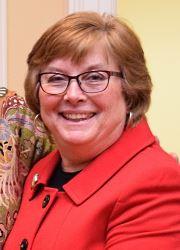 Maryland Senator Nancy King is Salisbury University's 2018 John R. Hargreaves Distinguished Legislative Fellow. In recognition of outstanding public service, the award was presented by SU President Janet Dudley-Eshbach during a ceremony at the Miller West Conference Center in Annapolis.
Purpose of the Award
It has been well documented that college students today are often apathetic, if not downright cynical, about the political system.  It is our belief that such negativity is in part due to those images presented to them about politics and politicians rather than actual direct contact with their fellow citizens who have been elected and entrusted with the public good.  In addition, we believe that the actual processes of legislative politics---the give and take that is part of any deliberative activity---are not always well understood by students.
In view of these discomfiting facts, it will be the purpose of the John R. Hargreaves Distinguished Legislative Fellow Program to foster a dialogue and closer contact between students and legislators with the goal of creating, on the part of students, a better appreciation for the complexities and rewards of legislative life and, on the part of the legislator, a better understanding of the concerns and issues that motivate young people today.  The program will also serve as a way of recognizing and honoring those outstanding legislators who often are too little appreciated for the time and effort they spend on behalf of their fellow citizens.
Funding for the program has been made possible by the John R. Hargreaves Memorial Fund. Delegate Hargreaves was a distinguished Maryland representative from Caroline County. Upon his death, a fund was established in his name at Salisbury University.