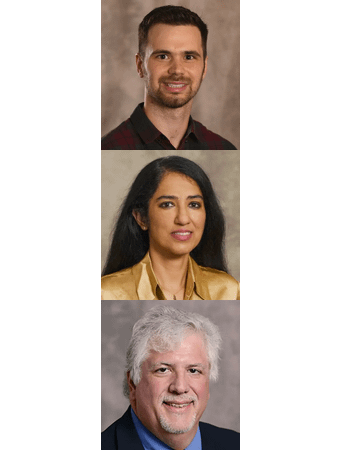 It is something of a tradition that Library Matters features an article on faculty who make use of the Libraries in their teaching. Faculty members are critical to the success of the Libraries. They partner with librarians to teach information literacy skills to their students. They create assignments that use the Libraries' collections of print and electronic resources, and they help us determine what resources to buy or license. They take advantage of the Libraries' special resources and services – the MakerLab, the Nabb Research Center for Delmarva History and Culture, and the Curriculum Resource Center – to provide their students with other ways of creating and mastering knowledge. And, they are our biggest cheerleaders and supporters.
In celebration of that partnership, the Libraries every semester name two faculty members as our Information Literacy Partners of the Month. Here are the faculty we have celebrated so far in the 2022-2023 academic year:
For September-October, Dr. Kyle Teller of the Department of Mathematical Sciences earned recognition. In nominating Dr. Teller, Emily Zerrenner, research and instructional services librarian and liaison to Mathematical Sciences, wrote:
[Dr. Kyle Teller] is teaching DSCI 470, Research Methods in Data Science, this semester; we met in early August to determine how I could best support the class. As data science is just getting started as a major, the class only has five students, but Kyle and I have been working together to ensure they have the research assistance they need. Before any instruction occurred, we talked about what the DSCI 470 LibGuide would need – with his guidance, I added three pages specific to data science to the guide: Datasets, Coding Resources and Machine Learning. For the first library instruction session, we went over citation managers, evaluating sources, how to find research articles, and specifically finding coding resources and textbooks that SU has (and why students may want to do that as opposed to just Googling their coding problem). I visited their class for a second time a few weeks later so that we could go over finding datasets specifically for them to use in their projects. I am also embedded in the MyClasses space to be as visible as possible for the students. The data science major is exciting, and it's even more so with Dr. Teller's willingness to work directly with the library to ensure student success.
For November-December, we recognized Dr. Vinita Agarwal of the Communication Department. In nominating Dr. Agarwal, James Parrigin, coordinator of library instruction and liaison to Communication, wrote:
I'd like to nominate the Communication Department's Dr. Vinita Agarwal as an Information Literacy Partner of the Month for working with me during her design of a COMM 390/394 Special Topics in Communication: Health Engagement and Advocacy course, which is underway this semester, fall 2022. In a semester-long project, students research and bring awareness to health topics of historically underserved or underrepresented communities on Maryland's Eastern Shore. Strategically selected library interventions during the course provide students with information literacy instruction on primary and secondary source location, evaluation, analysis and synthesis. This support is provided by the Nabb Center's Ian Post and Research and Instruction Services' James Parrigin. The final products bring attention to health topics in the form of student-created Wikipedia pages, presentations at a 3 rd Friday event in downtown Salisbury and, potentially, as publication additions to SU SOAR institutional repository.
Most recently, we recognized Dr. David Burns, also of the Communication Department, as the February-March Partner of the Month. Jennifer Piegols Pulsney, university archivist and special collections librarian, nominated Dr. Burns, observing:
David brought his Sports Reporting class into the Nabb Center to learn about primary sources within the University Archives. His students will create a "Centennial Minute" documentary in which they will use primary sources to create a short documentary profile on a student, coach, team or Hall of Famer from SU's sports community. The projects will be aired on local television and the final products donated to the University Archives. It's exciting to see such a rich collection of the University Archives used in a creative way by our students while also ultimately contributing to the Archive itself.
These partners have been recognized on the Libraries' social media, and we have purchased books in their honor to be added to the Libraries' collection. We thank Dr. Agarwal, Dr. Teller and Dr. Burns as well as all the other SU faculty members who work with us for their partnership!