CRC Environmental Collection Room Renamed in Honor of Patty Dean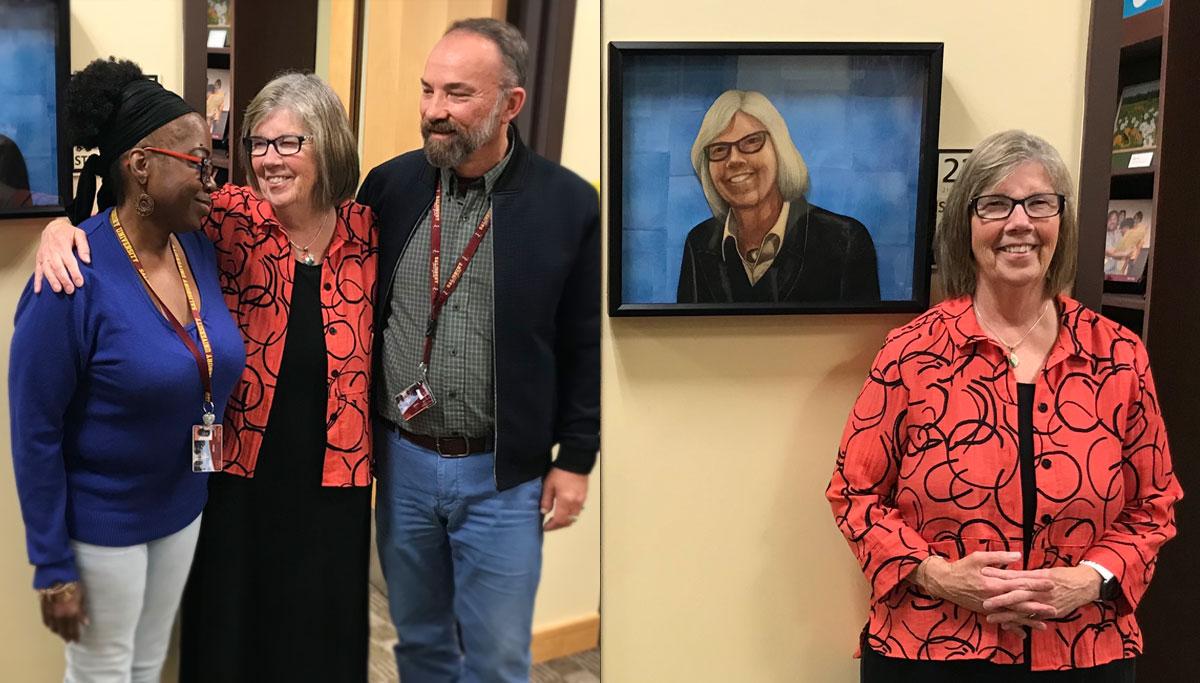 The SU Libraries and especially the staff of the Dr. Ernie Bond Curriculum Resource Center (CRC) bid a fond farewell to Dr. Patty Dean, associate professor of early and elementary education, who is retiring after 20 years at SU. Dr. Dean has been a steadfast friend of the CRC, donating more than three thousand – yes, you read that right, three thousand – children's literature books over the years.
The faculty and staff of the Seidel School of Education, with the full support of the SU Libraries, proposed renaming the CRC's Environmental Collection Room for Dr. Dean. In early May, the Seidel School held a reception in the CRC to honor Dr. Dean and Pat King, another faculty member retiring from the Department of Early and Elementary Education. At the reception, we announced the re-naming and unveiled both the new sign for the room and a portrait of Dr. Dean by Bryan Collier, an artist/illustrator who earlier painted a portrait of Ernie Bond.
The naming of the Environmental Collection for Dr. Dean is particularly apt. She was one of the founders of the Green Earth Book Award, the nation's first environmental stewardship award for children's literature, and has typically chaired or co-chaired the award selection jury. This award, bestowed annually since 2005, is sponsored by The Nature Generation in partnership with SU. The winners are announced at the Annual Children's and Young Adult Literature Festival, which also began in 2005, and with which Dr. Dean has been involved since its founding. Dr. Dean also established and co-directs the Sonia Lynn Sadler Illustrator Award for new, diverse illustrators of environmentally based children's books.
The proposal recommending that the Environmental Collection Room be renamed for Patty Dean concludes that "her great gift to SU [is] her continual and immeasurable service to her students during all her teaching years. She exhibits an unparalleled sensitivity for understanding and helping her students with whatever they need on their path to becoming amazing teachers."
We would be delighted to have you come visit the Dr. Patricia Dean Environmental Collection in the Dr. Ernie Bond Curriculum Resource Center (Conway Hall, Room 226).