Student Art Prize Winner "Rainy Day on the River"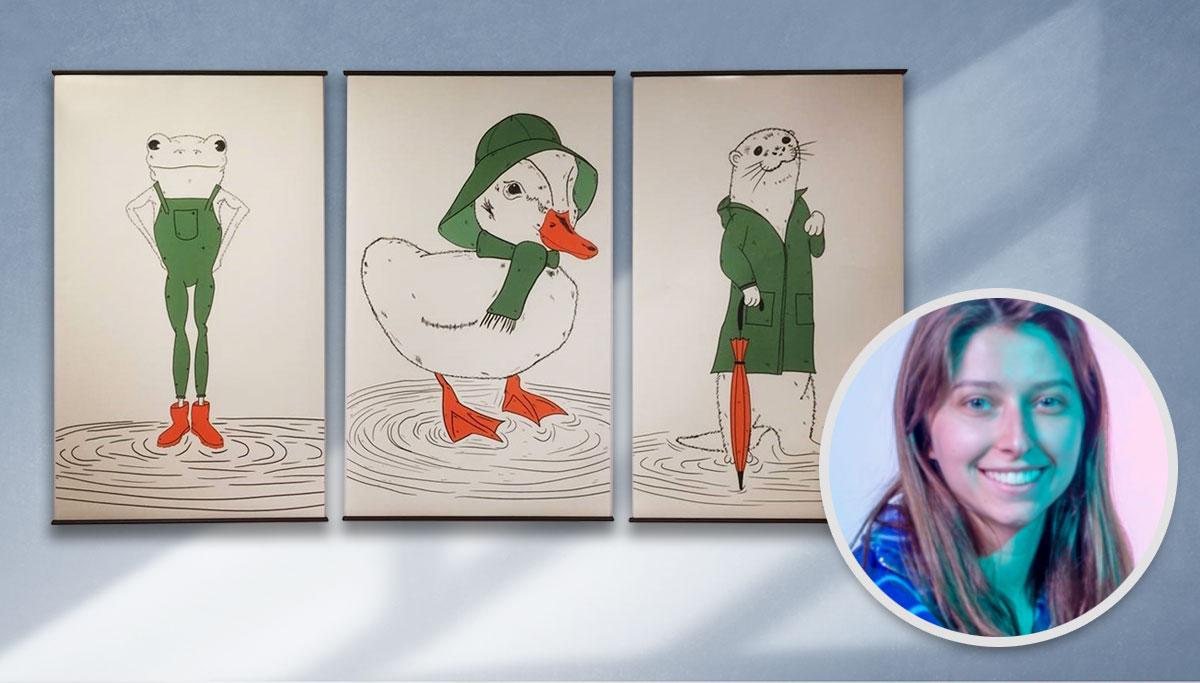 Thanks to a generous endowment provided by the Middendorf Foundation in 2007, the SU Libraries are able to award a Library Art Prize, purchasing pieces at SU's Senior Art Shows each year. This spring, the prize committee chose three prints by Baylee Bruso as the prize winner. The three prints, collectively known as "Rainy Day on the River," charmed the committee with their whimsical but well-executed style. The prints will be displayed in one of the third floor reading rooms in the Guerrieri Academic Commons, very near the juvenile literature collection.
Baylee is a senior art major who grew up in Annapolis, MD, and attended Broadneck High School. Interested in art from an early age, she took her first graphic design class in eighth grade. Taking four years of photography classes in high school sparked her interest in advertising and marketing, while taking graphic design classes at Anne Arundel Community College led to her pursuit of graphic design as a career. She chose Salisbury University to finish college because she "wanted a smaller school experience and to be close to home."
Baylee explained that while she connected with a few professors, the one who most influenced her and helped her to grow was Aric Snee. She related that "he had a very hands-off type of teaching approach, which gave me the chance to work out on my own the issues that would arise throughout my artwork creation." At the same time, "he was always there to give feedback and tips if you ever asked." Importantly, Snee also gave Baylee "the confidence [she] needed to be a better artist and dive into the type of work [she] really enjoyed. Whether he knew it or not, Aric had a big impact."
The inspiration for "Rainy Day on the River" came mostly from children's book aesthetics where animals are humanized." Baylee related that, "I chose these three animals as my subject due to a few other school projects I've created with ducks as my main subject. Once I had the duck drawn, I knew I wanted to create a series of animals that lived in the same ecosystem." She chose "ducks that spend most of their time on the water, frogs that spend most of their time in the river, and otters that spend most of their time next to the river." As to the cute rain wear, that idea came "after I had decided I wanted the animals to each wear their own set of clothes. After putting the otter in a raincoat, I decided it was going to be a rainy day; therefore, 'Rainy Day on the River' was born."
After graduation, Baylee will be working as brand manager for Capital SUP, an Annapolis-based paddle boarding and kayak rental company. She will be designing merchandise, managing customer interactions and handling social media.
We wish Baylee all the best in the future and are grateful that we will be able to display these charming pieces in the Guerrieri Academic Commons.