Experience Gained: SU Student's Archival Internship at the Nabb Center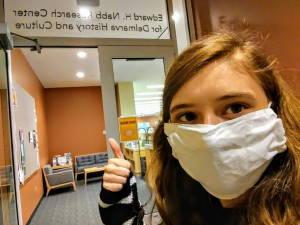 My name is Samantha Steltzer, and I am a junior in the Clarke Honors College, double majoring in communication and history. On September 4, 2020, I arrived in person at the Edward H. Nabb Research Center for Delmarva History and Culture, and I began my three-credit archival studies internship. From there, I worked under the supervision of Ian Post, the Nabb Center's local history archivist, and I also worked closely with Jennifer Piegols, the university archivist and special collections librarian, both in person and over Zoom. For six hours on Fridays until mid-December, I learned the basic abilities and characteristics needed by an aspiring archivist, while increasing my writing, analysis, digitizing and research skills and deepening my passion for history. During my internship, I performed a wide range of work with six collections: Smith Island Collection, Edward Henry Bowes Collection, Parsons Cemetery Records, Allan Morton Thomas World War II Letters, Linda Duyer Collection and the George White Collection, some of which you can see through the Nabb Center's finding aids!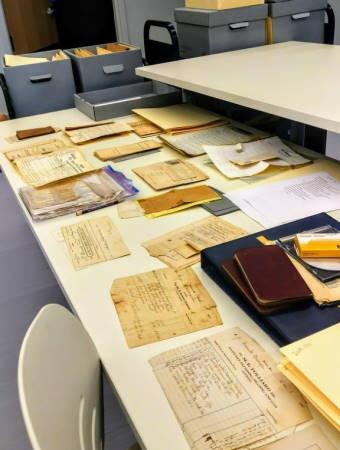 Personally, each day I came into the Nabb Center for my internship was enjoyable. I love being in the center of a great history nexus and carefully cataloguing, reading and sorting through all the documents and ephemera. If I had to pick my favorite aspect, I would say holding and processing items such as a 1918 yearbook, family records from 1836 and a land deed from 1730. In many history classes, you see the artifacts and documents only secondhand, through images, but to physically hold and examine an original, scraped animal skin land deed from before the Revolutionary War is incredible and something I never thought I could possibly do. Reading the Allan Morton Letters was sweet because Morton's correspondence to his wife constituted some of the sweetest, most affectionate words I have ever read. It made me happy that even during the bloody and scary period of World War II, love and hope could still be maintained.
This internship will guide me in my future career because I plan to work as an archivist in one of the many Smithsonian museums or NASA archives. I have built a strong foundation of valuable archival and technical skills for my future job with this internship. Though each archival job is distinct, the basics I have garnered through my positive experience at the Nabb Center and the instruction from Post and Piegols have enhanced my comprehension and prepared me for an archival position. Having loved the experiences I gained with this internship, I returned to the Nabb Center in spring 2021 to complete a museum studies internship.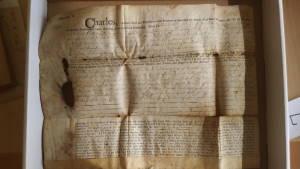 Editor's Note: As part of her museum internship at the Nabb Center, Steltzer created an online exhibit: "'Labor of Love': Baking Traditions Across the Eastern Shore of Maryland."