Patricia Guerrieri's Cereus Cactus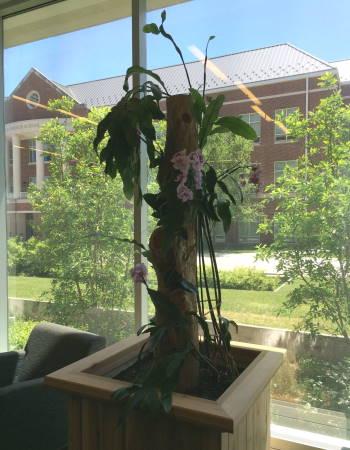 Salisbury University's Horticulture Department recently moved a plant into the Guerrieri Academic Commons, home of our main library. The building is named for the late Patricia Guerrieri, the beloved matriarch of the Guerrieri family and an SU alumna. Why is this relevant to a story on a plant? Patti Lou, as she was known to her family, loved plants, and this particular plant, a night-blooming cereus cactus, belonged to her. The family gave it to SU. It blooms only once a year, at night.
The cereus had been housed in the Horticulture greenhouse, but few people could see it there. In September 2017, when the plant was about to bloom, the Horticulture staff moved it temporarily into the Guerrieri Academic Commons so people could see it while it was blooming. Recently, however, in order to allow more people to enjoy it, the Horticulture staff asked if they could move it to the Guerrieri Academic Commons on a long-term basis. We usually are leery of having plants in the library, not because we dislike plants but because the insects who often accompany plants are bad for library materials. However, we wanted to honor the building's namesake, and we were able to agree with the Horticulture staff on a location that is well away from library materials but provides a location where we think the plant will be happy and visible.
The cactus is in a custom-made 3' x 3' cedar planter on casters and is growing around a cedar trunk that is 7 feet tall. Because the cactus blooms only rarely, the planter also features five flowering orchids to add accents when the cereus is not blooming. Next time you are in the Guerrieri Academic Commons, check it out. It is on the first floor in the south-side lounge area near the MakerLab.