It has become traditional for us to include a profile of a student worker in our newsletter. In this issue, we have decided to profile two student workers because we had so many nominations from our staff wanting their students featured. We'll have more in the next issue, too. We are going to miss them when they graduate!
Jordan Long, MakerLab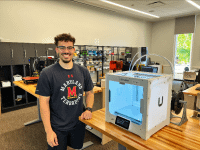 Jordan Long is a senior information systems major and hails from Howard County, MD. He explains that he chose Salisbury University "because I enjoy a small school atmosphere where I can build relationships with my professors and associates. Choosing SU also gave me an opportunity to live on my own and experience a new environment."
Jordan's favorite aspect of being an information systems major is the variety of career paths he can pursue. He also enjoys the intersection of "being able to work in a tech field but also still work in business paths." He appreciates the opportunities to be involved on campus and "nurture/develop [his] professionalism as a young adult."
Three weeks after graduation in spring 2023, Jordan plans to obtain his SAP S/4HANA certification [Editor's note: I'm a librarian. I looked it up to discover what that means.] He will then head to Tokyo, Japan, for vacation before starting work as a Federal Tech Assurance Associate at KPMG in Washington, DC.
Jordan is in his second year working in the MakerLab. Chris Woodall, technology librarian and MakerLab coordinator, nominated him, remarking, "Jordan's dedication to his job at the MakerLab is exceptional. Whether he's helping a student or just learning about the technology for his own benefit, he consistently goes beyond what is required of him and provides the highest level of service to our patrons."
Jordan enjoys the people he works with at the MakerLab, observing that the "library upholds a strong environment of unity and kindness amongst peers and patrons." He noted, "working at the Libraries has made me more aware of the various resources our university offers ... [and] has also made my work ethic stronger as I don't feel I have time to procrastinate." Working at the MakerLab specifically "has also helped me learn IT and design skills that I'll be able to translate in my future endeavors."
Christina (Tina) Lopez, Access Services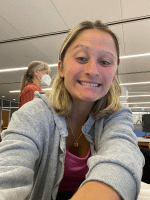 Christina (Tina) Lopez is a senior exercise science major from Springfield, VA. She chose SU, she reported, "because I have always had the best summers in [Ocean City] and my aunt had come here and always raved about her time here." In addition, "it was far enough away from home, and I fell in love with the campus." She also wanted to get out of her comfort zone by "coming to SU knowing no one and I wanted to make friends outside the comfort of my friends from grade school."
Tina appreciates that exercise science is a broad major that is an avenue to many different occupations. After graduation, she plans to attend graduate school to obtain a master's degree in occupational therapy. She enjoys the atmosphere at Salisbury where "everyone wants to help you," and she is grateful for "the opportunities that come from within classes, like research." She adds that she also loves the people, commenting, "Everyone here is so nice and welcoming."
Tina has worked at the Library Service Desk for three semesters now. Liz Wallace, the circulation assistant who nominated her, described Tina as "amazing, very knowledgeable, friendly and helpful." Tina returns the compliments, observing that everyone at the library "is so sweet and helpful." She also enjoys how much she has learned about what the library does. "Working at the SU Libraries," she concluded, "has helped me academically in research papers/studies. Having the research help desk conveniently next to me has helped me with those assignments."