Did you know there is a place in the library where students can go to get help with their research? It is on the first floor of the Guerrieri Academic Commons – on the left side of the Library Service Desk – and it is called, cleverly enough, the Research Help Desk. It is open 67 hours per week and staffed by a rotating crew of six librarians and four well-trained student workers.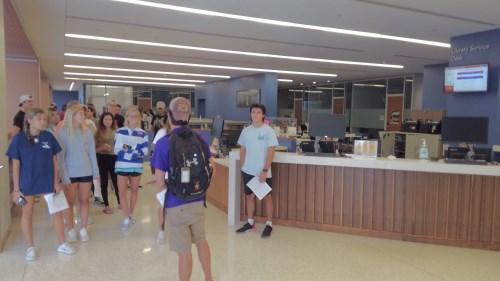 While 75% of the questions the Desk staff receives are from walk-up patrons, there are other ways of getting research help. Nearly 20% of the queries come via chat. On the SU Libraries website contact page, , there is a chat box that allows students to chat directly with a library staff member. Students also can email questions to libraries@salisbury.edu or phone 410-548-5988, but few students pick these options.
The folks at the Research Help Desk can help students figure out how to search for books or journal articles, what databases to search, how to conduct effective searches, how to access e-resources such as e-books or online journals, and where to find items physically within the Guerrieri Academic Commons. The librarians have been known to run upstairs to teach someone how to read call numbers on books and how those numbers can be found in the third-floor reading room shelves.
Some questions require more in-depth help than others. James Parrigin, one of the librarians who works at the desk several shifts each week, recounted: "In September, I had an interesting question that came from one of Dr. [Adam] Woodis' GERM 496 students." Studying the "Black German experience," the student "needed original works of notable historical (post-modern) and contemporary Black German authors whose writings celebrate living as a Black person in Germany."
It did not end with a visit to the Help Desk. Parrigin observed: "The Research Help Desk discussion turned into a research consultation appointment where we later identified a dozen books in our collection on the very topic of the 20th century Black German experience. From our library databases, we found author biographical information and critical reviews of a contemporary author who the student selected, Olumide Popoola. I also walked the student through the use of our InterLibrary Loan service." The project ended well, with Parrigin noting the student "was really happy with all of the sources we'd found, and she mentioned that she felt confident that she had the ability to continue on her own, and it helped that she could continue to call on me for help. That felt good!"
Please encourage students to take advantage of our research expertise and come to the Research Help Desk for assistance with their research papers and projects. We are happy to help!