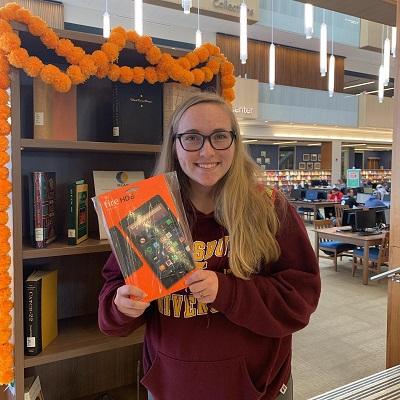 The last week of the semester and exam period typically are very tense times for students, as they scramble to finish papers and projects and study for final exams. Over the years, the Libraries have developed an array of programs to help students relax a bit and do their best – the Finals Fairy, coffee and treats, yoga, games, and similar activities. Obviously, this semester, we cannot offer those programs in person. But our Finals Week Committee, chaired by librarian Caroline Eckardt, has come up with some online alternatives, outlined in the De-Stress LibGuide.
During Finals Week (May 11-15), the Finals Fairy in Quarantine will be issuing challenges to students through social media, with such challenges as most stylish final exam outfit, most appetizing study food creation or most touching finals-inspired poem. Entries will be submitted through social media/email. Each challenge will have two winners, one selected by the committee and one chosen from a randomizer; winners will receive an e-gift card of their choice. Winners need to be current SU students, but all members of the SU community (including alumni) are encouraged to participate.
In addition, the LibGuide has links to streaming movies; free yoga and meditation classes, including from local yoga instructors; pet therapy, linking to videos of cuddly animals; bibliotherapy, for those for whom leisure reading is relaxing; recommended podcasts, playlists and TED talks; puzzles, coloring and creativity pages, including an online coloring book and digital jigsaw puzzles from the Nabb Center and Sammy the Sea Gull coloring pages; a link to our "Cooking from Our Collection … At Home" page; and games and distractions.