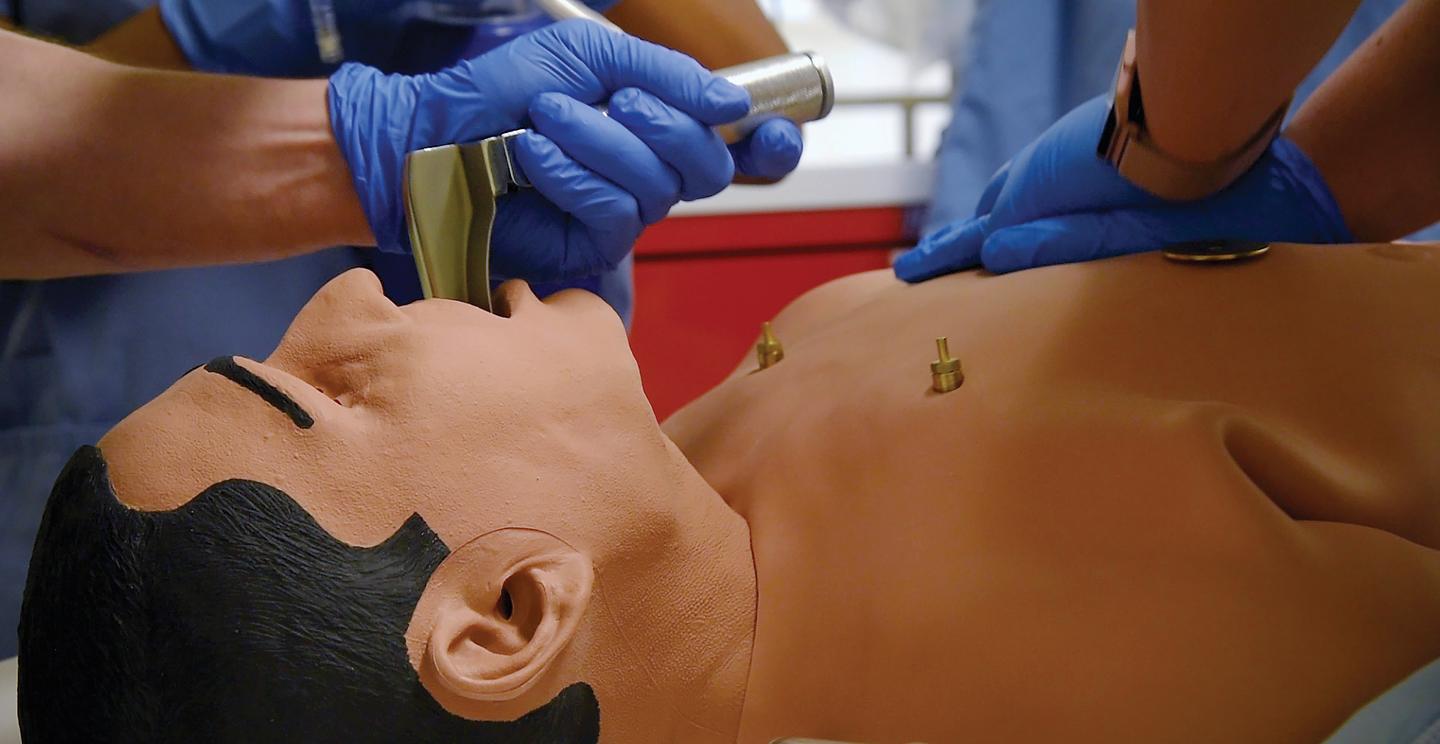 Respiratory Therapy Major
Finding your path in life can be challenging. At Salisbury University, we'll help you get down to the heart of the matter. We offer a program leading to the Bachelor of Science in respiratory therapy, preparing highly trained health care practitioners who care for patients with disorders of the cardiopulmonary system. Respiratory includes the administration of gas mixtures by various appliances, application of mechanical ventilators to assist or control breathing, maintenance of airways, administration of drugs by inhalation, assistance with cardiopulmonary resuscitation, monitoring of heart and lung functions of critically ill patients and evaluation of patients in the cardiopulmonary laboratories.
Why Choose a Respiratory Therapy Major at Salisbury University?
As a respiratory care practitioner, your expertise will be in demand, and opportunities to expand your knowledge and skills will be great. In the current job climate, the respiratory care practitioner's talents are a precious commodity in most medical institutions. In addition, many clinics, nursing homes and home care programs are beginning to realize the potential benefits of having a trained respiratory care practitioner on staff.
An education at SU prepares you for that world outside of the classroom. Our program is accredited by the Commission on Accreditation for Respiratory Care (CoARC) and our courses help students practice under the guidance and supervision of professionals during internships in real-world environments. You learn my doing in our Medical Simulation Center, where you can practice your skills on high-fidelity medical mannequins and actors before you work with real patients. At SU, after two years of prerequisite courses in basic science areas such as biology and chemistry, upper-level courses are provided in chemical and biological testing related to health and human disease, as well as internships in various hospitals throughout the region. Following completion of the program, graduates are eligible to take national certification examinations which are recognized by medical laboratory employers. Many of our students also incorporate additional science courses into their studies to allow for admission into a variety of graduate schools including medicine, forensics and pharmacy.
Pre-Physician Assistant Track
The respiratory therapy profession is a strong source of graduate physician assistant (PA) program placements. In many instances, respiratory care practitioners (RCPs) already function as a physician extender, as does a PA. The RCP brings nationwide medical professional licensure (49/50 states), critical care experience, trauma care experience and a variety of primary medical interventions similar to the PA's activities. This makes RCPs very attractive in the PA program admissions process, and graduates are often in the first tier of preferred medical experience profiles. Through the Respiratory Therapy Program's Pre-PA track, graduates are poised to apply their clinical education toward PA program prerequisites. Through the dedicated track, students gain the clinical experience and assessment skills needed to become RCPs and are given a strong foundation for PA program acceptance and success.
Respiratory Therapy Major Admission Requirements
All students, including transfer students and those currently enrolled at SU, are considered on a competitive and space available basis.  Decisions regarding acceptance to the upper division respiratory therapy courses are made according to the cumulative GPA (of no less than 2.5) from all institutions attended and with consideration of the overall academic record.  For details visit the Respiratory Therapy home page.
Careers for
Respiratory Therapy
Majors
With the ever-increasing number of cardiopulmonary disorders diagnosed, individuals who enter the profession will enjoy good career opportunities. A degree in respiratory therapy can prepare you for important health careers such as:
Critical Care Specialist
Pulmonary Disease Educator
Pulmonary Laboratory Technologist
Rehabilitation Specialist
Respiratory Care Practitioner
Respiratory Therapist
Sleep Laboratory Technologist
Respiratory Therapy Faculty with Real-World Experience
Our faculty work side-by-side with students to help them develop the skills they need to pursue competitive careers in the medical field.
Learn More About Our Respiratory Therapy Major