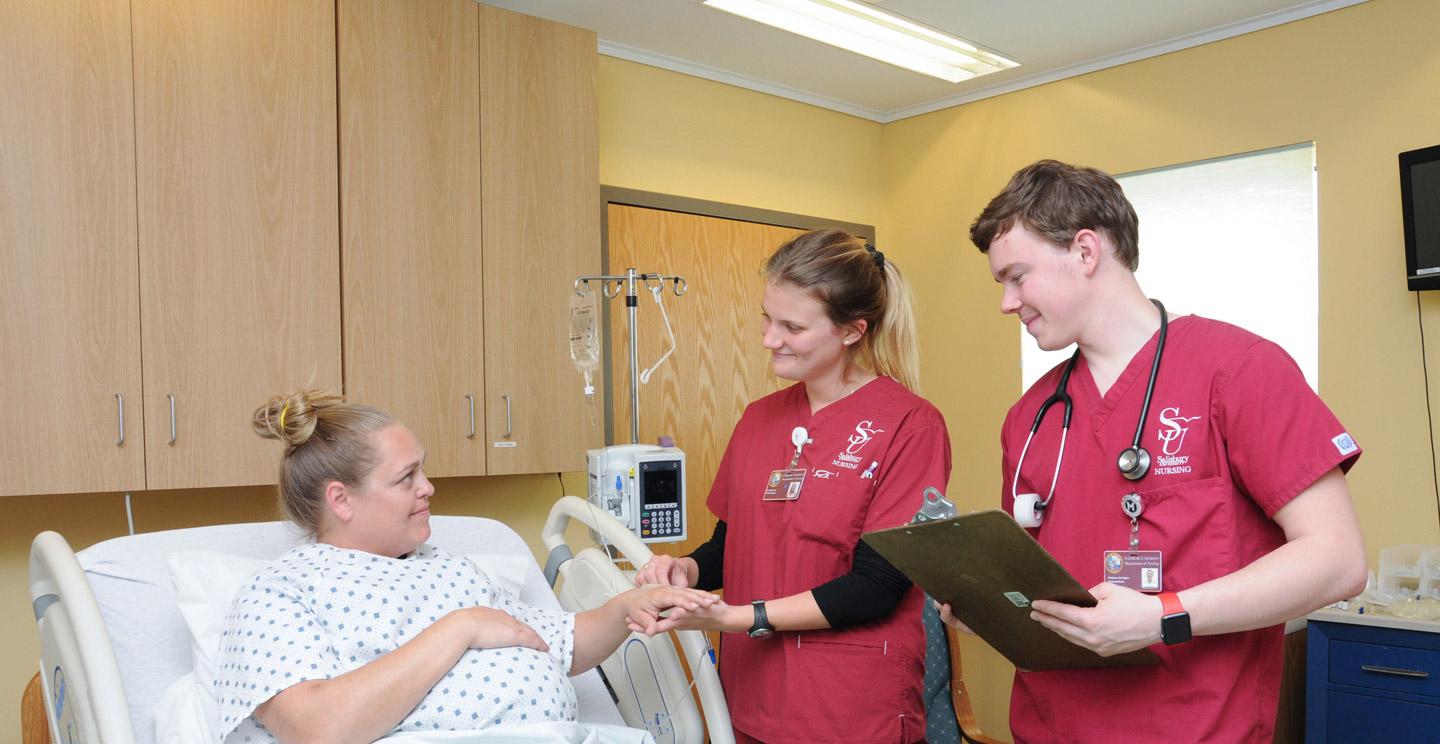 Master of Science in Nursing
The role of the nurse is changing and expanding. Creative and motivated nurses are able to initiate challenging and rewarding new opportunities. The School of Nursing at Salisbury University provides a rigorous, science-based program to prepare graduates with advanced skills who wish to become nurse educators or move into leadership/management positions.
What Can I Do With This Degree?
Graduates of SU nursing programs have excellent employment prospects. The demand for professional nurses is critical due to a nationwide shortage. With registered nurse licensure, there are opportunities for employment in:
Acute care hospitals
Long-term care facilities
Rehabilitation centers
Public health departments
Hospices
Industrial and occupational health, research and health promotion organizations
More specialized settings such as school health, law, pharmaceuticals, sales and marketing
Graduate Program Virtual Information Sessions

Applications for Fall 2024 entry will open in January with priority review for those completed by March 1, 2024.

Come meet the Graduate Program Director, other faculty, and current students to learn more about the master's and Doctor of Nursing (DNP) program options. Ask questions and prepare to "Make Tomorrow Yours" with an advanced nursing degree.

Monday 6:30-7:30 p.m.:
October 23, November 27, January 22, & February 26 - Zoom Registration

Wednesday 12:30-1:30 p.m.:
November 1, December 6, January 3, & February 7 - Zoom Registration

Thursday 7:30-8:30 p.m.:
November 9, December 14, & February 8 - Zoom Registration
Why Choose the M.S.N. at SU?
The M.S.N. at SU is accredited by the Commission on Collegiate Nursing Education. The program is also approved by the Maryland Board of Nursing and the American Association of Colleges of Nursing (AACN). These stamps of approval are a validation of the quality of the curriculum, faculty and resources of SU's School of Nursing.
In addition to its accreditation, SU's program has the following advantages for its students:
Hands-on experience and exposure. Graduate nursing students at SU have enjoyed success in publishing their evidence-based practice, capstone and internship projects in Journal for Nurse Practitioners, Journal of Hospice and Palliative Nursing, Computers in Nursing, Journal of Emergency Nursing, Journal of Case Management and Nurse Educator.
Expert, dedicated faculty. The faculty practice as well as teach scholarship in nursing, publishing in such prestigious journals as Journal of Nursing Education, Western Journal of Nursing Research, Holistic Nursing Practice, Issues in Mental Health Nursing, Journal of Professional Nursing and Nurse Educator. Close student-faculty working relationships are fostered through a highly interactive learning environment.
Outreach opportunities. The school reaches beyond the campus, participating in community service projects such as the American Cancer Society Relay For Life. The faculty lend their expertise to community health organizations and advisory boards such as the Alzheimer's Association of the Eastern Shore, Coastal Hospice, Planned Parenthood, Chesapeake Bay Girl Scout Council and Delaware and Maryland Boards of Nursing.
A flexible program. Most classes are offered using a combination of synchronous and asynchronous distance learning strategies. Full-time students can earn their degree in two to three years, and part-time study options are available as well.
Graduates of SU's program are in demand and valued for their expertise and professional contributions. They are also well-prepared for doctoral study. Top-notch facilities hiring SU nursing graduates include:
National Institutes of Health, Bethesda, MD
Johns Hopkins Hospital, Baltimore, MD
Duke University Hospital, Durham, NC
University of Maryland Hospital, Baltimore, MD
Children's Hospital of Philadelphia, PA
Christiana Medical Center, Newark, DE
Washington Hospital Center, DC
S. Navy Nurse Corps
S. Army Nurse Corps
Peninsula Regional Medical Center, Salisbury, MD
Atlantic General Hospital, Berlin, MD
Nanticoke Memorial Hospital, Seaford, DE
Nursing Concentrations
SU's flexible program offers multiple options for students to complete their degree. View the information below to find out which option is best for you:
RN to M.S.N.
The RN to M.S.N. program is for academically talented RN students who do not have a bachelor's degree in nursing and wish to pursue a master's degree in nursing in the nurse educator or health care leadership concentrations. In this option, students earn a graduate degree with a 12-credit efficiency over the more traditional route where, B.S.N. and M.S.N. degrees are pursued separately.
Program Overview
For details on admission, program policies as well as the program requirements, visit the University's catalog:
Faculty with Real-World Experience
The faculty of the School of Nursing at SU is a distinguished group who practice what they teach, ensuring you are learning from the best working professionals in your field.
Learn More About Our Program