Faculty Academy and Mentorship Initiative of Maryland (FAMI-MD)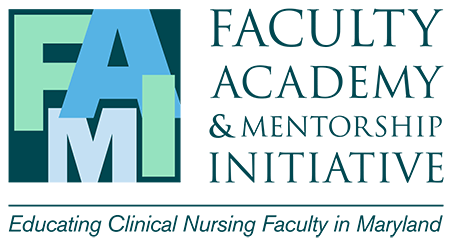 The Faculty Academy and Mentorship Initiative of Maryland (FAMI-MD), formerly known as ESFAMI, prepares experienced Bachelor or higher degree prepared registered nurses for new roles as clinical nursing faculty members. Funded through the Maryland Higher Education Commission Nurse Support II program, FAMI-MD is offered as a collaborative effort among nursing programs at Salisbury University, Chesapeake College, Wor-Wic Community College, Towson University, Allegany College of Maryland, Frostburg State University, and Hood College. Nurses who participate in FAMI-MD will complete a six-week long Academy, consisting of online instruction with synchronous sessions via videoconference (Zoom). FAMI-MD offers our traditional Introductory-FAMI academy, previously known as ESFAMI, FAMI-Central, or FAMI-West academies, as well as the new Advanced-FAMI curriculum. Advanced-FAMI builds on the topics introduced in Intro-FAMI and expands into new topics of learning for educators.
Interested in Applying?
What Academy Participants Will Learn
Intro-FAMI attendees learn about what is expected of clinical faculty, how to design and manage experiences in a clinical setting, and principles of evaluating student performance and providing feedback.
Specific outcomes include the ability to:
Apply the principles of teaching/learning to various types of student learners in the clinical setting.
Participate in on line discussions regarding aspects of teaching in the clinical setting and complete projects which involve on line activities.
Describe the role of the part-time clinical educator in the clinical setting.
Structure learning experiences in a clinical setting, as well as, devise an alternative plan for student clinical experience should the need arise.
Plan and implement valuable pre-clinical and post-clinical experiences and conferences.
Provide constructive feedback to nursing students in a clinical setting.
Implement strategies to manage challenging students in a clinical setting.
Participate in discussion groups about their teaching experiences during mentorship workshops.
Participate in high fidelity simulated patient care experiences and assess performance of both students and faculty in the simulated setting.
Discuss potential legal implications of role as a clinical educator.
Integrate current evidence into clinical teaching practice.
Advanced-FAMI attendees will learn how to:
Apply key elements of nursing and academic regulations and laws to the clinical educator role.
Synthesize perspectives from various learning theories to formulate strategies to reach today's learners.
Develop effective teaching strategies to address learning in the affective, cognitive, and psychomotor domains.
Formulate goals and strategies that promote active and engaged learning in face-face and online settings.
Explain strategies that can be used to foster student success related to inclusivity, recognizing limitations, and providing development opportunities
Differentiate clinical objectives from student learning outcomes and connect clinical objectives with learning strategies.
Integrate synchronous and asynchronous strategies to support the teaching-learning process in an online environment.
Demonstrate skill in the use of best practices in the assessment and evaluation of clinical performance.
Explore aspects of professional development as a faculty member including certifications, advanced degrees, and other activities.
Our Achievements
As of June 30, 2020, FAMI-MD has 201 graduates, including 32% from under-represented groups.
The outcomes of FAMI-MD have presented at multiple regional, national, and international conferences, and through multiple publications. The program was recognized in 2015 by Sigma Theta Tau International for the Excellence in Nursing Education Research Award.
At the end of Fiscal Year 2020, over 75% of FAMI-MD graduates were currently teaching or have taken a teaching position in the state of Maryland. 
Visit the FAMI-MD Online Application
FAMI-Maryland is supported by a Nurse Support II Grant from the Maryland Higher Education Commission under the auspices of the State of Maryland Health Services Cost Review Commission.