Salisbury University Career Closet
Professional attire is currently available to Salisbury University students in the SU Career Closet!
The Salisbury University Career Closet gives currently enrolled students the opportunity to obtain FREE professional attire for interviews, career fairs, conferences and any other professional events. All clothing is new or has been cleaned and in good condition.
Career Closet Goal
Salisbury University Career Services would like SU students to look their best to project a professional image. You have one chance to make that important first impression and dressing your best is one step that will help you achieve that goal. In the professional world, presentation is a key part in leaving a positive impression. The Career Closet is made available to students to make that "stand out" first impression. Having professional attire that is relevant to the job/internship increases a student's confidence level that will help them be successful in their interview. All clothing is either business professional or business casual attire.
Access to the Career Closet
Currently enrolled students can access the Career Closet by visiting the Career Services Office located on the second floor (Room 242) of the The Guerrieri Student Union (GSU). Hours are Monday thru Friday from 8:30 am-4 pm or by appointment. You may also contact us by email at careerservices@salisbury.edu or by phone at 410-543-6075.
Donations
The SU Career Closet is funded strictly through donations from local businesses and members of the surrounding community. Donations will be accepted Monday through Friday from 8:30 a.m. - 4:00 p.m. or by appointment.
If you would like to donate, please call the Career Services office at 410-543-6075 or email careerservices@salisbury.edu. Donations can be dropped off at the Career Services office located on the second floor, Room 242 of the The Guerrieri Student Union (GSU).
We accept new or gently used clean business professional or business casual clothing on hangers in good condition less than five years old.
Items we accept:
Business suits
Blazers
Blouses/Shirts
Pants
Skirts
Ties
Belts
Professional dresses
Professional shoes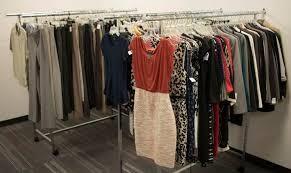 Please note: Items deemed unacceptable will be donated to local charity organizations.
Career Services would like to thank in advance all who donate. Your donation makes it possible for students to feel confident and leave a positive impression in their professional development journey.
History
The Career Closet was launched in 2018 as a result of an initiative of the Student Government Association.