Re-Envisioning Ethics Access and Community Humanities (REACH)
The R.E.A.C.H. Initiative is a multi-year collaboration between the departments of Philosophy and Psychology at Salisbury University. The humanities are at the center of a needful rethinking of the purpose of undergraduate education at our institution, as well as the public mission of state-assisted universities. The R.E.A.C.H. Initiative brings together, via a slate of new curricular and co-curricular resources focused on Ethics, two major elements of institutional revision: (i) Curriculum change aimed at harmonizing professional training with early exposure to philosophical and research ethics, and (ii) Community-driven learning, where our immediate community has a say and a stake in the design of public-facing services, internships and programming.
R.E.A.C.H. Goals
REACH seeks to answer three broad questions: (1) What are the most in-demand Ethics services in the area? (2) How can we identify priority ethical issues? and (3) How can we incorporate these needs/priorities into professional development and teaching?
R.E.A.C.H. Goals are as follows:
Short-Term Goals
Establish a Community Ethics Network in the broader Salisbury area.
Conduct listening sessions with representatives from local community-based organizations to assess needs and assets present in our area.
Create educational curricula, drawn from needs in our local community, from which to educate students on ethical issues.
Long-Term Goals
Establish a public-facing Center for Ethics and Social Responsibility, which will serve as a conduit between local community-based organizations and SU students and faculty; the Center will provide a variety of public-facing services, internships, and programming.
To learn more or to get involved, please contact Project Co-Directors Michele Schlehofer or Timothy Stock at REACH@salisbury.edu.
The R.E.A.C.H. Process
Building the Network - Organizations are added to the Community Ethics Network
Listening Sessions - CEN members are invited to participate in confidential listening sessions
Summarize Findings - Information from the listening sessions is summarized and connected to scholarships on ethics
Develop Resources - Findings are used to develop resources for the classroom and the community
Resources Dissemination - Resources are disseminated back into the community
Our work entails a cyclical process in which the community organizations with the Community Ethics Network (CEN) provide input on their conceptualization of ethics, organizational need. This input is then mapped onto scholarship on ethics and used to develop both educational recourses and tools accessible to the community.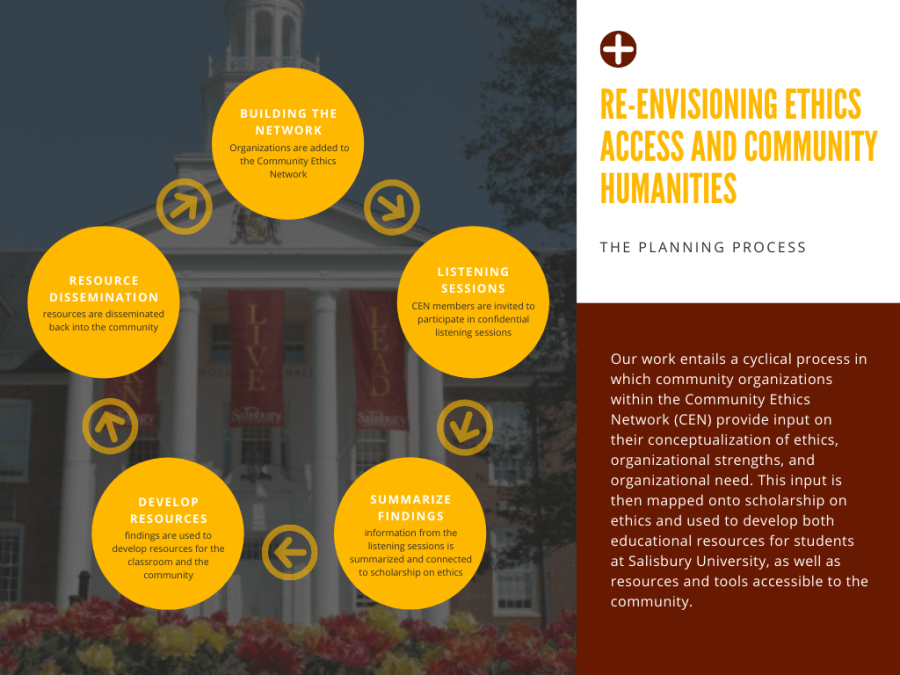 The Community Ethics Network
The Community Ethics Network (CEN) is a network of over 120 local organizations and leaders in the greater region focused on peer-to-peer discussion, resource sharing, and opportunities. Members include representatives of large and small for-profit enterprises, non-profit organizations, faith-based organizations, City and County governmental agencies, and advocacy groups. CEN members receive our newsletter and information about upcoming listening sessions, events, and workshops. To join the CEN, email us at REACH@Salisbury.edu.
Why Focus on Ethics?
Ethics can mean a lot of different things, but to us it means communicating about the ways in which we understand the public good, and reflectively approaching how we make decisions, set rules, and share information in the course of making those goods a reality. An ethical community embraces transparency, dialogue, and the ability to revise its own practices; to this end, the R.E.A.C.H. Initiative is establishing a Community Ethics Network. Establishing this network has been a long-desired goal towards increasing SU's and Salisbury's engagement with public ethics in this sense.
One of the biggest barriers to this sort of work is establishing trust and mutual understanding of how we all articulate the public good to ourselves, our team members, and our constituents. We all play different roles, from businesses to non-profits to government and social enterprises. By coming together, we can establish that mutual understanding, pathways to collaboration and mutual aid, identifying and acquiring needed resources, and guaranteeing increased accountability.
With the heightened environment of a COVID pandemic, policing, partisanship and public accountability, there is no time like the present to find new ways of communicating, solving problems, and how best to take responsibility for our community, and for each other.
The R.E.A.C.H. Initiative is funded by a grant from the National Endowment for the Humanities awarded to Dr. Timothy Stock (Philosophy) and Dr. Michele Schlehofer (Psychology).
White Papers
Meet the R.E.A.C.H. Team
Project Co-Director Timothy Stock (PhD 2007, Philosophy from University of Toronto) is Philosophy Department Chair at SU. As Chair he has established Public Philosophy as the central aspect of his department's mission, and has established or expanded philosophy activities in the schools, assisted living communities, the local prison, art galleries and libraries. His research interests are in social philosophy such as the philosophy of religion, art and literature, in particular Levinas' "face-to-face" ethics. He is director of the Eastern Correctional Institution Book Discussion Program, and has facilitated three public humanities grants through Maryland Humanities and others facilitating community dialogue on mass incarceration and youth policing. He has received awards for teaching and literacy outreach.
Project Co-Director Michele Schlehofer (PhD 2007, Applied Social Psychology from Claremont Graduate University) is Professor of Psychology at SU. Her work takes a PAR, community-based approach to developing community spaces that are inclusive of LGBTQ people. She is co-developer and evaluator of SU's Safe Spaces training program and on the Board of the non-profit, PFLAG Salisbury, which she founded in 2015. She received a 2017 Local and State Issues Public Policy Grant from the Society for the Psychological Study of Social Issues, a 2017 USM Board of Regents Faculty Award in Public Service, and a 2019 Distinguished Faculty Award.
Project Co-Director Jennifer Nyland (PhD 2003, Microbiology and Immunology from SUNY Upstate Medical University) is an Associate Professor in the Department of Biological Sciences and serves as the director of the Henson Honors Program in Science and Mathematics. An expert on the immunotoxic effects of metals exposures, she has employed a wide variety of research methodologies, including epidemiological studies to examine the effects of mercury on biomarkers of immune modulation and in vitro studies to probe the mechanisms of these effects, in vivo mouse models of disease, and is collaborating with a marine science lab here at Salisbury University to examine the impacts of environmental toxicants on marine organisms starting with phytoplankton and zooplankton.
Project Subject Matter Expert Dr. Grace Clement (PhD 1994, Philosophy from Northwestern University) is a Professor of Philosophy at Salisbury University. She researches and writes in ethics and moral theory, with special interests in feminist ethics, animal ethics, medical ethics, and moral psychology. Her publications include the book, Care, Autonomy, and Justice: Feminism and the Ethic of Care (Westview Press 1996), twelve peer-reviewed articles, and a book co-written with an international working group, The Ethical Case Against Animal Experiments (University of Illinois Press 2017). She coaches SU's student ethics bowl teams which participate in regional and national competitions, and serves on SU's Institutional Review Board for Human Subjects. She has received the Salisbury University Distinguished Faculty Award and has been named a Fellow of the Oxford Centre for Animal Ethics.