Pre-Physician Assistant Track
Why major in Medical Laboratory Science to be a Physician Assistant?
Unlike many graduate healthcare programs, physician assistant (PA) studies typically require that students already have previous healthcare experience. This previous experience can be significant, ranging from hundreds of clinical hours to thousands. Healthcare majors offer THREE important advantages to students who wish to become PA's. First, clinical hours are built into the curriculum of Medical Laboratory Science (MLS) and some other healthcare degrees, so students can begin accruing these hours as undergraduates in these majors with no extra expense or effort. Second, the type of clinical hours accrued is weighted at most schools for admissions decisions. Students who complete simple certificate programs, like EMT and CNA, to accrue hours can be ranked below students who accrue hours as board-certified healthcare professionals with baccalaureate and/or master's degrees. Third, admission into PA school is very competitive, and many students are not admitted the first time they apply.  Being a board-certified healthcare professional allows graduates to easily earn money while accruing more clinical hours to make themselves more competitive. (For more detailed information on the issues surrounding advising pre-PA students, visit the Physician Assistant Preparation website and watch the video.)
Pre-Physician Assistant Track Curriculum in MLS
The pre-requisites needed for most physician assistant programs can be completed through the MLS degree in 4 years. Click here to see the curriculum with a 4 -year plan.
Take a look and see how easy this can be.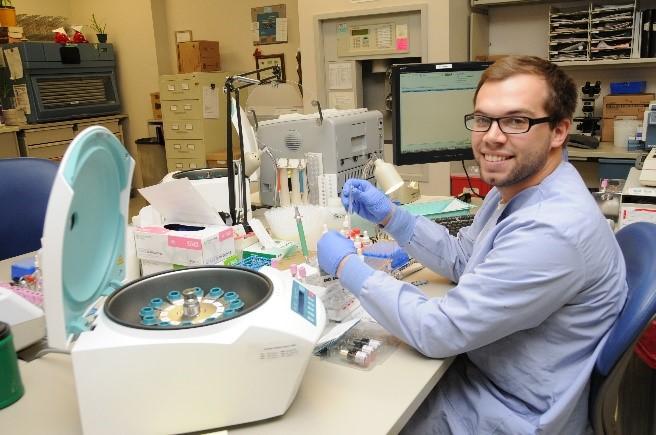 Photo of: Jacob Bollinger, MLS Class of 2016. University of MD - Baltimore / AACC Physician Assistant collaborative program.