Medical School Preparation
www.aamc.org (MD) Allopathic Medicine
www.aacom.org (DO) Osteopathic Medicine
Preparation for medical school requires, first and foremost, that certain pre-requisite courses be completed and that the applicant take the Medical College Admission Test (MCAT).
Students preparing for the MCAT exam should note that a significant portion of the exam is now psychosocial knowledge and that not all of the material will be covered in basic courses such as PSYC 101 and SOCI 101/201. Students should consider additional psychosocial courses and/or study supplemental material for this portion of the new MCAT.
You can choose any undergraduate major, provided that you include the required medical school prerequisite classes in your course of study. You must do very well academically in the area of study that you choose and also in all prerequisite courses.
Minimum Required Courses
General Chemistry (1 year with Labs)
CHEM 121, 122
General Physics (1 year with Labs)
PHYS 121,123
Organic Chemistry (1 year with Lab)
CHEM 221, 222
General Biology (1 year with Labs)
Course recommendations dependent on major
Strongly Recommended Courses for MCAT Preparation
The minimum courses to do well on the MCAT and the minimum courses for medical school admission are NOT the same thing. Please note that MORE courses are needed for thorough MCAT preparation than are required for admission. The courses below are strongly recommended additions to your program of study to facilitate good MCAT performance.
Biochemistry (1 semester with Lab)
CHEM 417
Cell Biology (1 semester with Lab)
BIOL 350
Introductory Psychology (1 semester)
PSYC 101
Anatomy and Physiology (1 year with Lab)
BIOL 215, 216
Genetics (1 semester with Lab)
BIOL 360 or 370
Introductory Sociology (1 semester)
SOCI 101 or 201
In order to be eligible for this committee letter, you must successfully apply for an HPAC interview by March 1 of the semester before you plan to apply to medical school. You should monitor the HPAP newsletter for announcements about when and how to apply for the interviews.
It is very important for a competitive applicant to have extracurricular activities. There are a wide range of possibilities. It is important that you have some type of clinical experience and most applicants have research experience as well. Medical schools want to be certain that you have knowledge of the field and job of the physician. Research or clinical experiences that you initiate or develop yourself are particularly rewarding and viewed very positively. Community and campus service, participation in organized sports or arts, leadership, and well developed personal interests are all important in the admission process.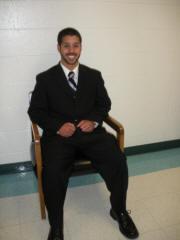 Carlos Rivera-Pratts
Exercise Science Major
Chemistry Minor
University of Maryland Medical School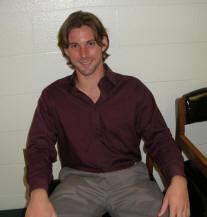 Nick Ross
Biology Major
Chemistry & Psychology Minor
Lake Erie College of Osteopathic
Medicine, Bradenton Campus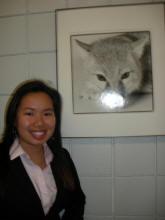 Kathy Dunning
Chemistry & Math Majors
Biology Minor
University of Maryland Medical School