SU Libraries MakerLab Helps Faculty Integrate 3D Printing Into Their Courses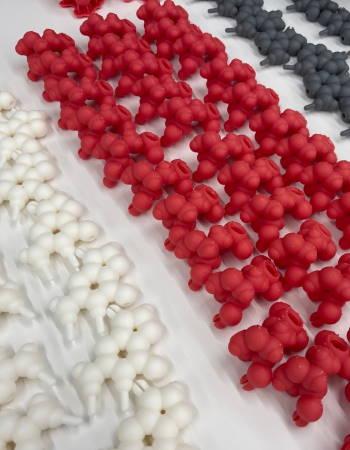 Our MakerLab is a fantastic resource for the SU community, offering exciting technologies such as 3D printing and virtual reality for all to use. However, it often can be challenging to get started with these unfamiliar technologies. Without prior experience, it is difficult to know exactly what the technology is capable of or what is feasible with the equipment available. This is especially true for faculty who would like to use these technologies in their courses, since they need to be sure it will meet their needs before they invest too much time or money integrating the technologies into their syllabi.
That is why Chris Woodall, SU Libraries technology librarian, and Steven Binz, assistant professor of physics, co-created the Enhancing Courses with Emerging 3D Technologies Faculty Learning Community (FLC). This FLC supports faculty using these technologies by spreading the word about what equipment is available, providing a place for faculty interested in these technologies to collaborate on projects and promoting investment in new technologies as they become available.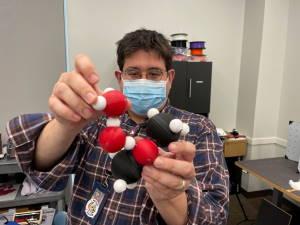 Starting in the 2020-2021 academic year, the FLC also launched a program to fund selected proposals from SU faculty for integrating 3D technologies in their courses. They invited all SU faculty to submit proposals and received several excellent ideas. Three proposals were accepted, and the FLC spent the spring 2021 semester bringing these proposals to life.
Dr. Kim Quillin (biology) worked with the FLC to 3D print a set of DNA kit models that can be manually assembled by students in her Introductory Biology class. Dr. Josh Sokoloski (chemistry) created a method to 3D print molecules and assemble them using magnets to simulate molecular forces. Dr. Mark Muller (physics) is developing a way to use 3D-printed parts that can be easily destroyed and reproduced to allow students to do calculations to predict how the objects will deform under different conditions and then actually conduct the experiment to see if they were correct.
With generous funding from the Office of Innovation and help from the FLC and the SU Libraries MakerLab, these faculty will be able to introduce these ideas into their courses in fall 2021. We are thrilled that the MakerLab was able to support these innovative teaching ideas over the past semester, and we can't wait to see what new ideas SU faculty come up with in the future.