Student Worker Profile: Josh Dale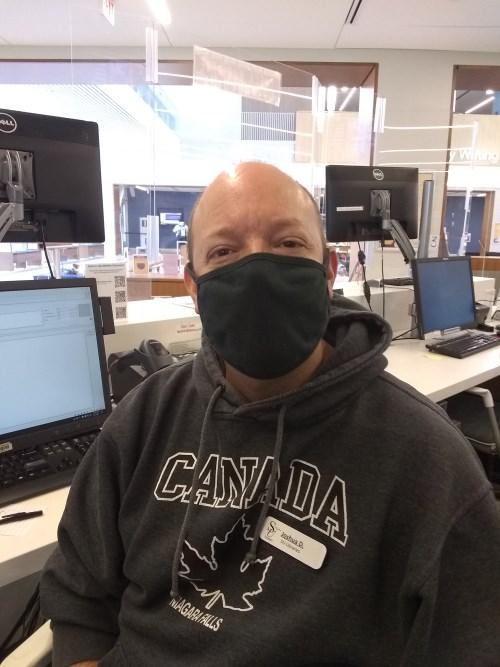 In this issue, we profile Josh Dale, a student worker at both the Circulation Desk and the Research Help Desk. Dale came to Salisbury in 2014 with his spouse, a faculty member in the Henson School of Science and Technology at SU. He chose to study at SU because he "had the pleasure of mixing and mingling with a variety of faculty and students over the years. I found that each one was enthusiastic about being at SU. The faculty are dedicated and motivated, while the students are friendly and engaging." Consequently, when Dale decided to resume his studies, "what I experienced at SU convinced me that I had to be a part of it!"
Dale is a Spanish major in the secondary education track. What he enjoys most about his major "is having the opportunity to take my enthusiasm for learning a foreign language and use it to cultivate the same enthusiasm in others." He intends to teach after graduation.
Dale enjoys working at the SU Libraries for various reasons. One that stands out is that "the staff and student workers really are a delight and feel more like family, which makes the job that much more enjoyable." Working at the Libraries has helped him academically. He reports that it "has enhanced my ability to problem solve within the world of academia. It has also exposed me to a variety of tools to use for my success and to offer to other students for theirs."
Dale's supervisors and co-workers appreciate him. Liz Wallace, who also works at the Circulation Desk, nominated him to be featured in our spotlight.
Amy Jones, the head of circulation, observed that "Josh offers a warm, welcoming presence at our Library Service Desk. In his first semester working here, he already has impressed us with his hard work and attention to detail."
Natasha Finnegan, assistant head of circulation, called Dale "an exemplary member of our team. He is a conscientious and personable employee."
Meanwhile, Teddy Stocking, the Research Desk coordinator, noted: "Josh is a consummate learner. He has an eye for detail and an eagerness to improve. I admire his responsibility and development as a research help desk worker."
We are happy to have Josh!