Teaching, Consulting and Chatting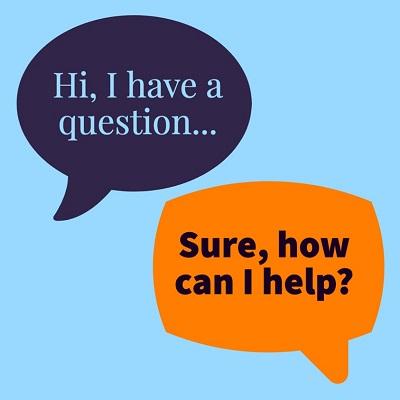 Every academic department at SU has a librarian assigned to it as a liaison responsible for providing instruction on the use of library resources for the department's students, ordering books and other materials to support teaching, and helping students and faculty with research questions. In addition, students can typically get help at the Research Desk, which is part of the Library Service Desk in the Guerrieri Academic Commons.
Even as we scattered to our homes to wait out the pandemic, the liaison librarians and other library staff have continued to work hard to help students and faculty with their teaching and research needs. The chat function on the library homepage is great for when students need a quick answer, whether from the main library or the Curriculum Resource Center (monitored by CRC technician Iris Jenkins). Staff from all over the Libraries have been fielding questions ranging from: "What do I do with this book I still have checked out?" (Keep it! All due dates have been moved to June 1.) to "How do I locate a scholarly source?" (Check out one of our many databases.).
Email and Zoom video conferencing are available for more in-depth consultations. One librarian helped a student triage their study set-up, after the student was suddenly confined to a two-student apartment lacking in multiple study locations. Another librarian has traveled far and wide online helping students and faculty alike in their research needs: Arizona, Russia and Japan, just to name a few!
In terms of instruction, librarians have continued to support courses both synchronously (that is, during scheduled class times) and asynchronously (the rest of the time). Quickly turning in-person information literacy instruction sessions into something more appropriate for distance learning, librarians have developed detailed library guides, interactive tutorials, how-to screen sharing videos and real-time instruction sessions via Zoom. Librarians have worked with classes in all five schools at SU, working directly with faculty to custom fit our services to their individual research needs.
Two of our librarians helped a history proseminar conduct unique primary research in a synchronous session, something they would normally conduct in person in our Nabb Center archives. The history professor said: "It really lifted my spirits after not hearing much from students for a while!" Another librarian has ventured into the very tricky landscape of film studies in a suddenly digital realm.
The Nabb Center's collections provided the basis for several online class sessions in addition to the proseminar mentioned above. A History of Art Design class worked with digitized graphic materials from the local history archives and special collections that were made available in Dropbox. The local history archivist filmed a presentation, and the students filled out a worksheet that prompted them with questions about both history and design, then wrote an essay after developing their research. For an environmental studies class on Race and Place in the Environment, the archivist and the exhibits curator created an assignment that had students reviewing various archival items relating to race as well as information about an 18th-century secretary (a type of desk) in the Nabb's permanent exhibit. They then used the information they learned to write new exhibit labels for the secretary. The new labels differed greatly from the original by looking at the furniture from a race-conscious perspective. Finally, for an English class on Writing in Digital Environments, students reviewed two digitized scrapbooks from University Archives and then wrote descriptions following archival standards, requiring them to write much more concisely than usual.
We're all learning how this works together, but our liaison librarians – Angeline Prichard, Susan Brazer, Mou Chakraborty, Caroline Eckardt, Stephen Ford, James Parrigin, Tina Plottel, Ian Post, Gaylord Robb and Teddy Stocking – are still here and committed to helping our students with their research needs, even from far away!
Here is some love for our liaisons from faculty:
"Thank you for a fantastic session today! … I think we should essentially do the same thing on April 7th with my HIST 430 class. Thanks again for all you do to support faculty and students."
Celine Carayon, History Department faculty
"Great stuff! This is a nice antidote for my inability to travel to archives."
Stephen Adams, Management and Marketing Department faculty
"Thank you A MILLION TIMES for working on this for us. Your efforts are truly, GREATLY appreciated!"
Ryan Conrath, English Department faculty
"Great stuff! … This is a really good addition to my class. I appreciate it."
E. Patrick McDermott, Management and Marketing Department faculty
"I really appreciate the extra effort here! Thank you so much."
David Johnson, English Department faculty
"Thank you so much for reaching out. … I do want to say (post-library instruction): NONE of my students missed points on the research component of their speech. All my students had the correct type of sources and cited them correctly. I even had a student use double the number of required sources. It was amazing to see!"
Michael Webber, Institute for Public Affairs and Civic Engagement coordinator