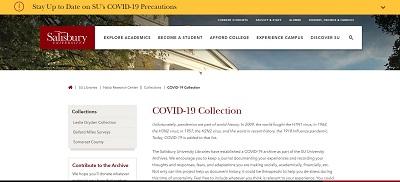 While most of our attention is focused on serving our students, faculty and staff, we also, being history-minded, are looking to serve future researchers. To that end, the SU Libraries have established a COVID-19 archive as part of the SU University Archives in the Nabb Center. You can find more information about it, including how to contribute.
We encourage you to keep a journal documenting your experiences and recording your thoughts and responses, fears, and the adaptations you are making socially, academically, financially, etc. Not only can this project help document history, it could be therapeutic to help you de-stress during this time of uncertainty. Feel free to include whatever you think is relevant to your experience. You could even add tweets, photographs, drawings, short videos, etc. as well. Other forms of documentation, such as audio recordings, photo essays, and interviews with family members and friends are also acceptable materials.
To supplement these individual stories, Jennifer Piegols, our university archivist and special collections librarian, is saving additional digital materials to add to the collection. She has been web-capturing press releases, executive orders and official statements from Governor Larry Hogan and Salisbury Mayor Jacob Day as well as various dashboards displaying COVID-19 statistics and visuals about the growth and spread of the virus. She also is archiving SU websites, President Chuck Wight's video statements, SU social media and emails, and miscellaneous news stories.
This is not an idea original to us. We saw several other archives and historical societies doing this, and, indeed, there has been a groundswell of institutions doing this. But future students and scholars will thank you for your help in preserving what (we hope) can never be recreated.