Jenny McFadden - Success Story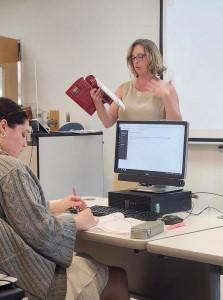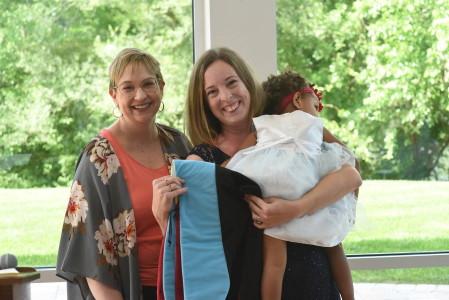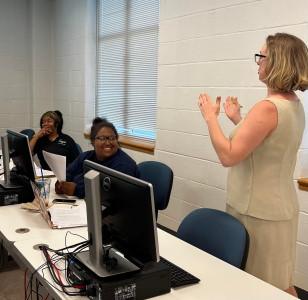 I credit Salisbury University's Department of Literacy Studies with preparing me to be the educator, researcher, and scholar I am today. Having been accepted into the doctoral program after a decade of teaching at the secondary level, I felt that my true calling was to work with college students. SU's program was the perfect opportunity to help me develop my professional passions. The focus on social justice empowered me to become a qualitative scholar who uses research to elevate the stories of students who have been frequently marginalized throughout their educational journeys.
I believe my coursework played an important role in equipping me to be successful when I applied to be an Instructor of Developmental English at Wor-Wic Community College in 2016. Graduating with the inaugural cohort in 2018 and gaining multiple experiences presenting and publishing in scholarly contexts during my time at SU has also contributed to the two promotions I've earned at Wor-Wic since then, where I currently hold the title of Associate Professor.
I am fortunate to teach on a campus that I absolutely love, with supportive colleagues and administrators, and with absolutely amazing students. I've even been able to continue my research: During the past year, as part of our commitment towards diversity, equity, and inclusion, and with the support of the Office of Student Engagement and administrators at every level, Wor-Wic has funded a qualitative research project that I have led in partnership with several colleagues in our Arts & Humanities Department. Our work, "Reading & Writing from the Margins: An Exploration of the Experiences of Developmental Students of Color in a Community College Context" uses case study and writing as method—methodologies I became intimately familiar with while writing my dissertation—to learn from this group of students. We seek to understand who they are as readers, writers, and students, and how we can better serve them and meet their needs. This important work would not be taking place if I had not learned how to manage a research project of this magnitude at SU.
I am thankful for the guidance of my advisor Dr. Judith Franzak and fellow committee members Dr. Laurie Andes and Dr. Erin Stutelberg. My coursework and the mentoring I received from these incredible women and other gifted faculty at SU have helped me land my dream job, and have inspired me to continue questioning, researching, and publishing as I live a life where I am blessed to teach, but also to learn, from my students.