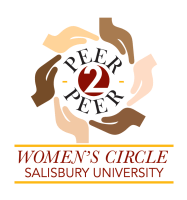 Note: Monthly meetings have been put on hold for the fall and winter. Please see upcoming events below.
Peer-2-Peer is a group of professional women, from campus and the community, who meet once a month for professional development and networking opportunities. You are invited to attend our informal workshop events by registering below.
Peer-to-Peer meets on the first Friday of the month, from 8 a.m.-9 a.m. Check back later for links to register for events or contact us at Peer2Peer@salisbury.edu for more information.
Upcoming Events
Please check back for more events.
Please contact Peer2Peer@salisbury.edu if you would like to be added to our mail list and feel free share our link with others to join us.