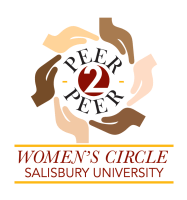 P2P is a group of professional women. You're invited to attend our monthly meetings for networking and professional development which are currently being held online.
Upcoming Events
Peer-to-Peer Schedule Spring 2021

Peer-to-Peer meets the first Friday of the month, from 8:00am-9:00am, via zoom. Check back later for links to register for events or contact us at Peer2Peer@salisbury.edufor more information.

May 7: Kathy Kiernan, Principal/Founder of Open to the Possible Coaching & Consulting

"Difficult Conversations at Work and in Life"



June 4: Lori DeWitt, Ph.D., Department of Communication Chair and Faith Filled Women Founder

"Harnessing the Power of Talking to Yourself"



July 2: Lawanda Dockins-Mills, Ph.D., Dockins Educational Consulting Group, LLC, retired Associate Dean of Students, Salisbury University Town/Gown Council, Vice Chair
Handouts from Previous Events
September 4: Dionne Rosser-Mims, PhD, Dean and Professor College of Education at Troy University, Alabama - Racial Literacy
November 6: Page S. Morahan, PhD, Professor Emerita, Drexel University College of Medicine; Founding Director, ELAM Program; Founding Co-Director, FAIMER Institute, and  Zareen Zaidi, MD, PhD, Professor of Medicine, University of Florida College of Medicine - Graceful Self-Promotion 
Please contact
Peer2Peer@salisbury.edu
 if you would like to be added to our mail list and feel free share our link with others to join us.