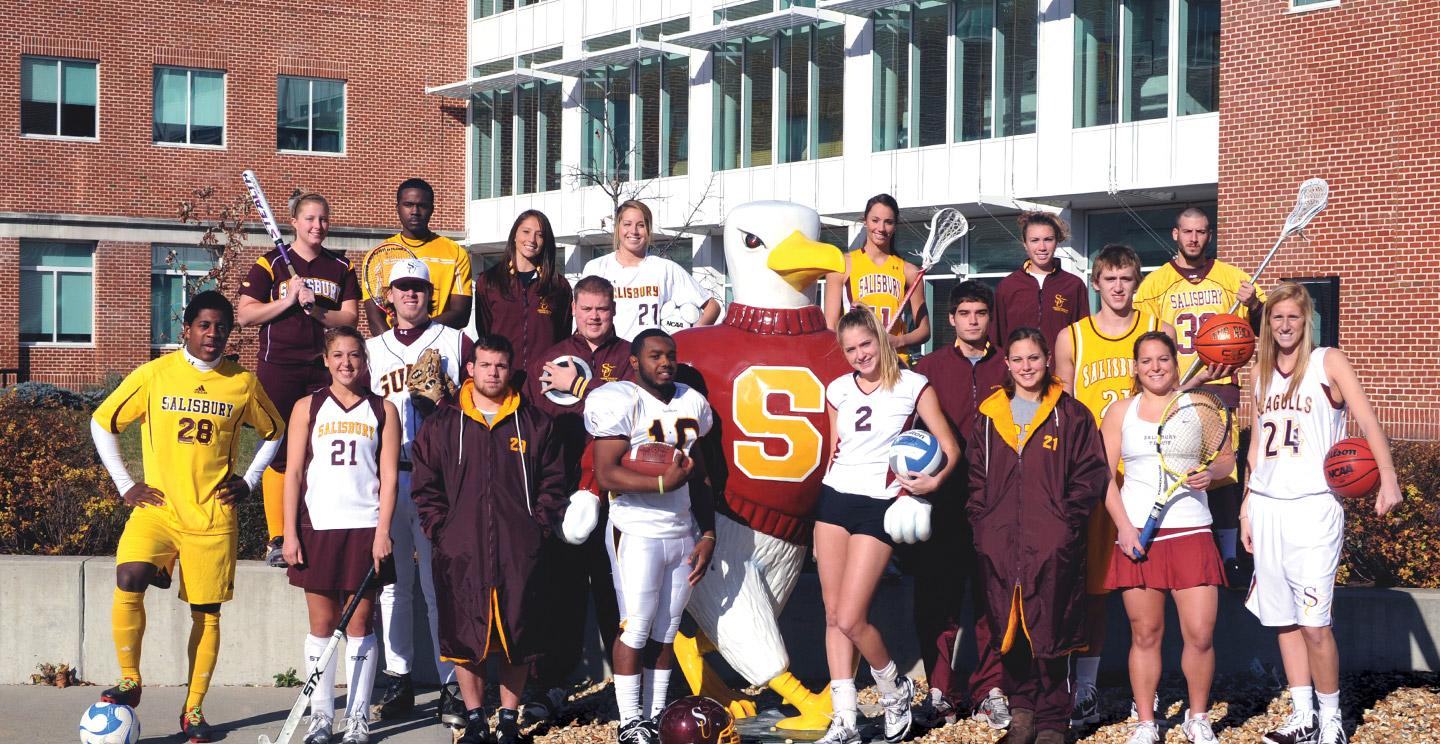 Sports Information Office
The Salisbury University Sports Information Office handles all media relations for the 21 varsity sports. The Sports Information Office also oversees all aspects promoting SU Athletics. From print to social media, from video to digital score boards, Sports Information is there.
What We Do
The Sports Information Office is responsible for informing external audiences, through the media in most instances, about Sea Gull Athletics. This includes announcements about scholar athletes, coaching and player milestones, home and away game information, as well as responses to media inquiries. Have a question about promoting your team news or event, or working with the media? We adhere to industry best practices. Just give us a call and we can help.
Support the Team!
The Sports Information Office staff also promote student-athlete success stories, provide game day support (stats, game announcements, etc.), maintain live stats and live video at home games, produce promotional items (schedule cards, posters, etc.) create digital game programs, and build awareness of SU's excellence on the field and off. Honored to be working in SU's new athletic complex, the staff works side-by-side with coaches and players to help build Sea Gull Nation's fan base. From teams volunteering out in the community to games dedicated to fundraising for a cause, the Sports Information Office is there to spread the word! Visit the main SU Sea Gulls site for all the latest stats and success stories!
For The Media
All media inquiries should be routed through the Sports Information Office. We respond to inquiries on behalf of University Athletics, and can connect you with coaches and staff experts. Members of the media should call 410-543-6016 or email Cyrill Parham chparham@salisbury.edu Director of Sports Information for assistance.
Sea Gull Sports Network
The Sea Gull Sports Network is overseen by the Sports Information office, but is primarily a student-run organization, coordinated by Assistant Director of Sports Information Justin Farrell, a 2013 graduate of Dickinson College. Some 20-plus students make up the talented staff that brings games to the fans throughout the year. To see the entire roster of students who are responsible for cameras, direction, announcing and production.
Share Your Team News
Are you a coach, faculty, staff or graduate of SU? Do you have a story to share? The Sports Information Office staff wants to hear from you! Tell us about your successes, from classroom achievements, to awards and honors. Great story ideas include, but are not limited to, significant milestones, outstanding student achievements and interesting alumni; and more. Contact Sports Information staff or email chparham@salisbury.edu