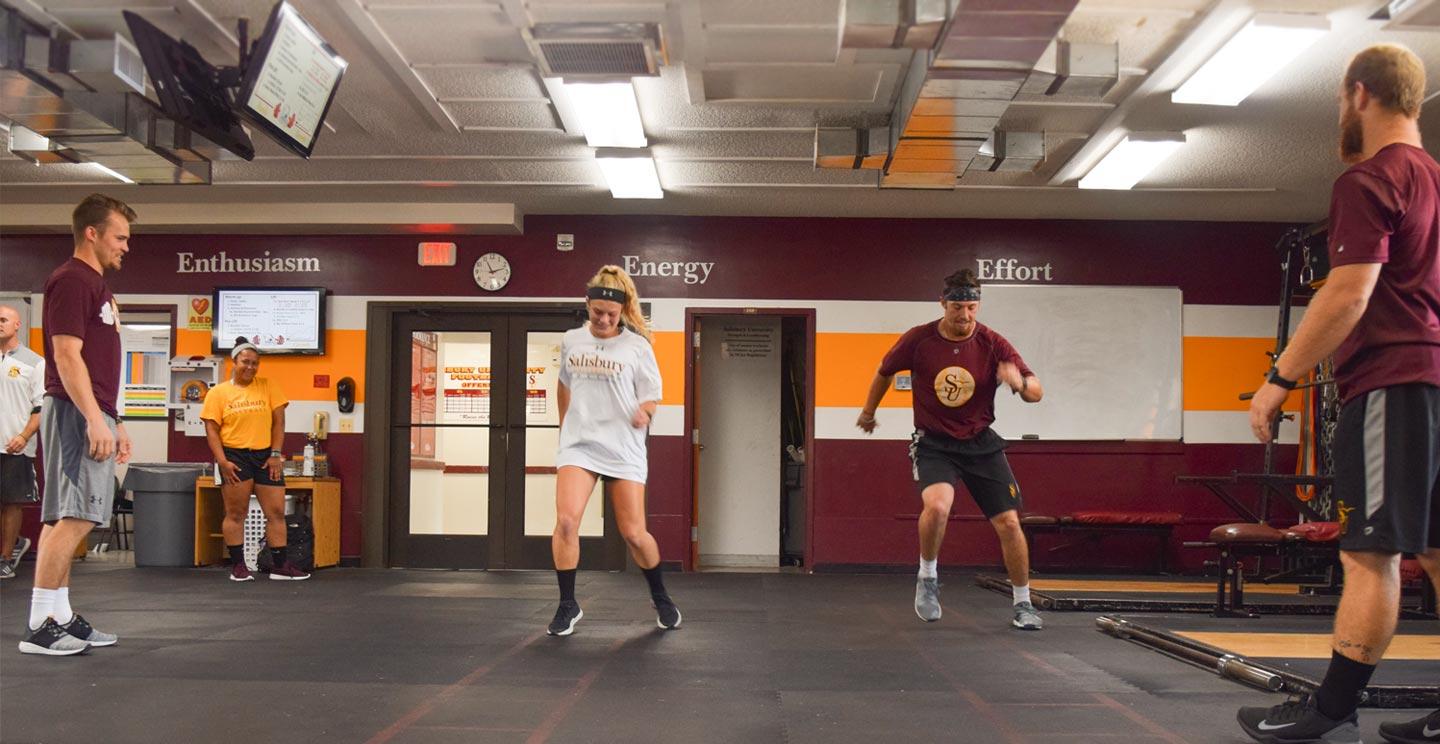 Master of Science in Health and Human Performance
Physiology is the foundation upon which we build our knowledge of life, including how to improve performance and treat disease. A career in applied physiology will allow you to apply evidence-based best practice guidelines to individuals with their unique needs and conditions, feeling the satisfaction of knowing that you have improved their lives.
Why Choose the M.S. in Health and Human Performance Program at SU?
The nationally recognized Health and Human Performance program is designed to include the knowledge, skills and opportunities for practice that are essential for the development of health care and strength and conditioning professionals. Consistent with this objective, the program fosters a strong commitment for every student to earn an appropriate professional credential. Students may choose from a credentialing focus within:
Clinical physiology (American College of Sports Medicine)
Fitness and wellness (American College of Sports Medicine)
Strength and conditioning (National Strength and Conditioning Association)
Additionally, every student participates in at least 400 hours of supervised internship in varied practice areas, such as:
Hospital cardiovascular/pulmonary rehabilitation departments
Strength and conditioning (university or private)
Corporate/community wellness
Research laboratories (university or industry)
The Health and Human Performance program is accredited by the Commission on Accreditation of Applied Health Education Programs (CAAHEP) within the exercise physiologist domain. In addition, our program has been awarded recognition as a graduate studies program by the National Strength and Conditioning Association (NSCA). Together, these distinctions represent our faculty's commitment to academic quality and dedication to the profession.
Health and Human Performance, M.S./Exercise Science, B.S. Accelerated Master's
Salisbury University offers students the opportunity to earn a combined B.S. in exercise science and an M.S in health and human performance in just five years. Admitted SU undergraduate exercise science students can adopt the Five-Year Combined B.S. Exercise Science/M.S. Health and Human Performance Program as their major once conditional prerequisites are met. Once admitted to the combined B.S./M.S. program, students work concurrently to complete the degrees following the requirements. To learn more about the five-year combined program, check out the University catalog:
Program Overview
For details on admission, program policies as well as the program requirements, visit the University's catalog:
Faculty with Real-World Experience
Our faculty members have a personal interest in the success of students and mentor students as they progress to a degree.
Learn More About Our Program