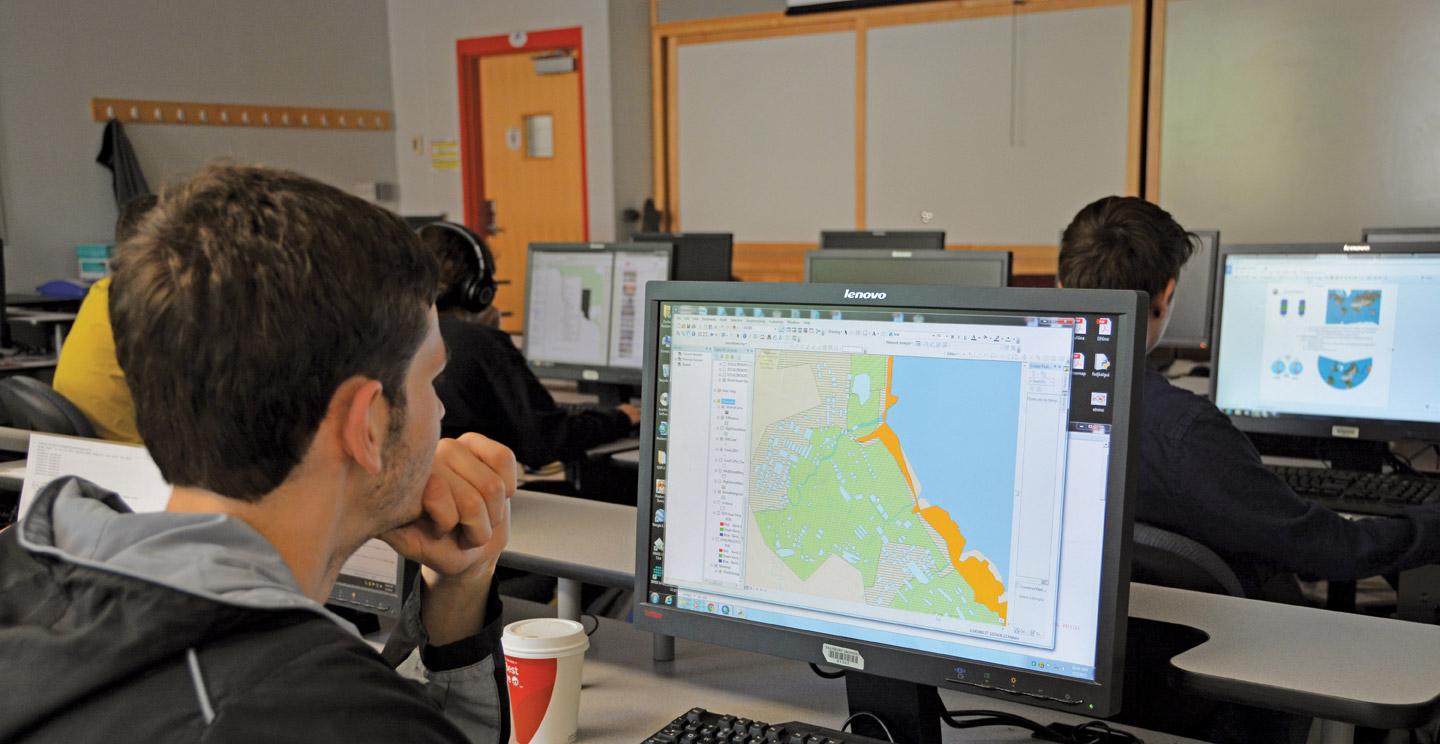 Master of Science in Geographic Information Systems Management
Are you looking to enter an exciting, dynamic field with management skills sorely needed by organizations across the country? With geographic information systems (GIS) being identified as one of the fastest-growing job sectors in the U.S. economy, the pressing need for qualified GIS administrators cannot be understated. When coupled with the mission-critical responsibilities that GIS now have in many public (and private) organizations, the need for GIS managers specifically trained for the job becomes obvious.
What Can I Do With This Degree?
GIS is one of the fastest-growing high-tech career paths. The adoption of GIS by government continues to accelerate. Students that complete the M.S. in GIS management program at SU achieve the necessary education credits for certification as a geographic information systems professional and may work in one of these fields:
Environmental protection
Resource management
Public planning
Law enforcement
Economic development
Facility management
Public health and property management
Why Choose GIS Management at SU?
The M.S. in GIS management program is unlike any in the country. Central to the mission of our program is to provide a practical, hands-on educational experience that prepares students for a career in the administration of GIS, particularly in a public context. Our program at SU has been rated one of the top GIS programs in the United States
Being online, the program is designed for both working professionals that have a finite amount of time to further their education and those looking to complete the program in an intense one-year program. Students should feel confident that the faculty could not be more committed to delivering high-quality content and completely supporting students as they move through the challenging course of study.
The program at SU offers:
The opportunity to continue working full time while advancing your education
The fully online program in the U.S. focusing on GIS administration
A focus on interaction between faculty and students and between student colleagues
Collaboration between SU GIScience undergraduate program and the SU Perdue School of Business
The necessary education credits for certification as a Geographic Information Systems Professional (GISP) upon completion of the program
Hands-on, real-world solutions to pressing GIS management issues
The chance to real-world problem solve through local business or government cooperatives
Training on the latest GIS software and equipment and the opportunity to work with the Eastern Shore Regional GIS Cooperative, providing technical support and training to the local governments of Maryland's Eastern Shore and beyond.
Flat-rate tuition. Currently $665 per credit-hour for all locations (in-state, out-of-state, and international). This includes all fees aside from the application fee.

The GRE is currently waived for the 21/22 academic year.
SU will prepare you for job placement with top-tier companies and agencies. Recent graduate employers include:
Analytical Graphics Inc.
Clay County (FL) Government
Eastern Shore Regional GIS Cooperative
Environmental Systems Research Institute (ESRI)
Greenhorne and O'Mara Inc.
ICF International Inc.
Maryland Coastal Bays Program
National Geospatial-Intelligence Agency (NGA)
Radiant Solutions
Is This Program Right For Me?
Are you a GIS professional looking to move into a management position in your government agency, non-governmental organization, or business?
Are currently in a management position but are soon expected to be responsible for the staff and resources of a GIS department?
Are you looking to enter an exciting, dynamic field with management skills sorely needed by organizations across the country?
Are you a working professional that cannot put your life and career on hold while you pursue an advanced degree?
Are you ready to become one of the first specifically trained GIS administrators?
If the answer to any of these questions is "yes," earning an M.S. in GIS management could be just the thing to accomplish your professional goals.
Program Overview
For details on admission, program policies as well as the program requirements, visit the University's catalog:
Faculty with Real-World Experience
Our faculty actively pursue professional research and development activities that contribute to their field of knowledge and help them maintain professional currency.