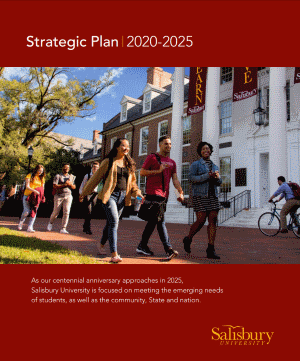 Following more than a year of collaboration through information gathering, trend analysis and focus group discussions with faculty, staff, students and community constituents, SU has developed five goals to lead our efforts as we approach our 2025 centennial anniversary:
The Strategic Plan will be reviewed annually by the Strategic Planning and Budget Committee. Please see the box to the left to provide feedback for the committee to consider during its review.
This new plan will guide us as we address challenges and seize opportunities to enable SU to carry out the mission of a public higher education institution for generations to come and is well aligned with both the Maryland State Plan for Postsecondary Education [1] and the University System of Maryland Strategic Plan. [2] We view this plan as aspirational and recognize that we may not be able to achieve all of these strategies over the next five years. However, an accompanying implementation plan will detail the prioritization and budgeting process for the elements of this plan and provide guidance as we approach our centennial anniversary.
[1] Maryland State Plan for Postsecondary Education