Reserve Officers Training Corps (ROTC)
Effective immediately Salisbury University will no longer be able to enroll new students into the SU ROTC program. The US Army Cadet Command has made the decision to reallocate resources that were used to support the SU program to other parts of the country. While we here at SU are extremely disappointed in this decision, we are still very supportive of the mission of the US Army ROTC program and appreciative of the leadership of the University of Delaware Blue Hen Battalion for their continued support. Please feel free to contact Dr. Douglas DeWitt at dmdewitt@salisbury.edu or (410) 543-6286 if you have any questions and/or if he can help you regarding ROTC.
Charlie Company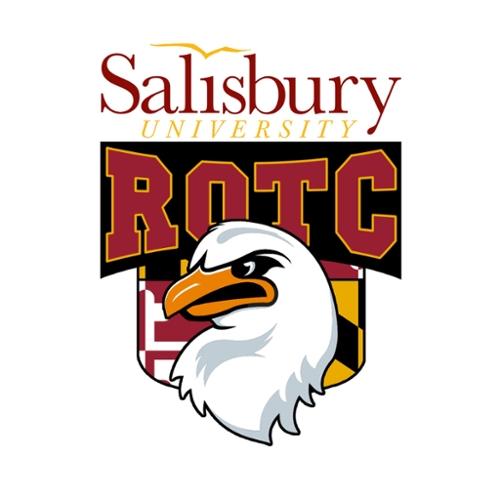 Our program was originally established when Salisbury University was recognized as a state school, but was reinstated in 2008 and has continued to grow since then. The Salisbury University Charlie Company operates underneath the University of Delaware Fighting Blue Hen Battalion. Most training events take place right here in Salisbury, but we also have the opportunity to travel up to our host school for larger events as well. With the help of the instructors and the ROTC cadre, Salisbury University cadets are challenged to learn tactical operations as well as leadership skills that cannot be acquired in a classroom setting. The Army ROTC program at Salisbury University has been commissioning quality officers since it was first founded.
ARMY ROTC is an elective curriculum you take along with your required college classes. It gives you the tools, training and experiences that will help you succeed in any competitive environment. Along with great leadership training, Army ROTC can pay for your college tuition. Because Army ROTC is an elective, you can participate your freshman and sophomore years without any obligation to join the Army. You will have a normal college student experience like everyone else on campus, but when you graduate, you will be commissioned as an Officer in the Army. At that point, you will have a wide range of interest areas you can specialize in called branches.
Who We are Looking For...
Those who succeed in the Army ROTC program are students who excel and want something more out of the college experience. Generally, these are students who maintain at least a 2.0 G.P.A. (2.5 G.P.A. if under scholarship), athletes who are physically strong and leaders who have a great desire to learn.
Commitment
Army ROTC students who receive an Army ROTC scholarship or enter the Army ROTC Advanced Course must agree to complete a period of service with the Army. * You can serve full time in the Army for three years (four years for scholarship winners).
*Selected Cadets may choose to serve part time in the U.S. Army Reserve or Army National Guard while pursuing a civilian career.
It's an experience that you can't get anywhere else, and your leadership skills will be challenged every day. Contact your campus Military Science department for more specific details on your Army ROTC service commitment.
Enrolling in the Army ROTC Basic Course does NOT involve a commitment of service to the Army unless you have received an Army ROTC Scholarship.