Thursday, April 19, 2012
SU Celebrates Earth Week April 23-26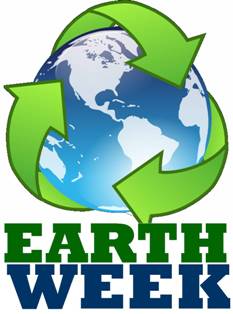 Download Poster PDF

SALISBURY, MD---From student activities to a public festival, Salisbury University celebrates Earth Week with a series of special events hosted by the Student Government Association Monday-Thursday, April 23-26.

Activities begin Monday, April 23, with a student-only sustainability tour of the campus starting at noon in the Fireside Lounge of the Guerrieri University Center.

Recycle Madness returns Tuesday, April 24. The popular event, held annually in Red Square, promotes recycling on campus. Students are encouraged to bring clean aluminum cans, glass bottles, plastic, cardboard, paper and tin to the collection site between 11 a.m. and 2:45 p.m. Those bringing at least three pounds of acceptable materials will receive a prize.

Registered student organizations (RSOs) bringing in at least 10 pounds of acceptable materials for Recycle Madness and have two members volunteering for the duration of the event receive participation credit. The RSO that provides the largest amount of recyclable material receives $100 ($50 for second place).

.: Related Sites :.

.: Related News :.

In addition to traditional recyclables, students are asked to bring old sneakers to be collected by ShoreCorps/PALS (Partnership for Adolescents on the Lower Shore) for recycling through the Nike Reuse-A-Shoe campaign. Their soles will be melted down and reused in the construction of athletic tracks and tennis courts.

The documentary Houston, We Have a Problem is screened 6:30 p.m. Wednesday, April 25, in Perdue Hall's Bennett Family Auditorium. The film examines the history of the oil energy and the future of energy. The Huffington Post calls it "a refreshing reminder that the energy debates are not black and white." The first 15 students in the auditorium receive prizes.

The celebration culminates with the SGA's annual Earth Day festival 11 a.m.-2 p.m. Thursday, April 26, in Red Square. Student organizations and local vendors are expected to share environmental information, games, and arts and crafts. Admission is free and the public is invited.

For more information call 410-543-6030 or visit the SU Web site at www.salisbury.edu.