Wednesday, April 18, 2012
Jackson Chamber Music Series Culminates With Allegheny Trio Tuesday, April 24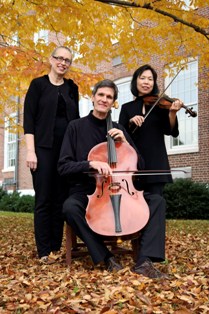 SALISBURY, MD---The Peter and Judy Jackson Chamber Music Series' spring 2012 season culminates with the Allegheny Trio 7:30 p.m. Tuesday, April 24, in the Great Hall of Holloway Hall.
The trio—cellist Jeffrey Schoyen, violinist Sachiho Murasugi and pianist Ernest Barretta—performs with guest mezzo soprano Charlotte Paulsen.
The program includes Hector Berlioz's Les Nuites d'été, Op. 7; Jake Heggie's Some Times of Day; Felix Mendelssohn's Trio in D Minor, Op. 49; and Lowell Liebermann's Trio for Violin, Cello and Piano, Op. 32.
Les Nuites d'été is a setting of six poems by Théophile Gautier from his collection La Comédie de la Mort. Some Times of Day is a setting of three poems by Raymond Carver. Trio in D Minor is among Mendelssohn's most famous chamber compositions, combining memorable lyricism with a virtuosic piano part. On a more contemporary note, Lieberman is one of the most frequently performed and commissioned composers in the United States.
Named for the Allegheny River which flows through the Pittsburgh area where the musicians originally played together, members of the Allegheny Trio reunited as a trio upon moving to the Eastern Shore.
Conductor and music director of the Salisbury Symphony Orchestra (SSO) and the Salisbury Youth Orchestra, Schoyen teaches cello and bass at SU. He has given concerts throughout the United States, Germany, Mexico and Spain, and received a Frank Huntington Beebe Grant to study in London with William Pleeth. He is also a Tanglewood Gustav Golden Award recipient. Schoyen honed his cello skills at the New England Conservatory of Music and Carnegie Mellon University, before earning his D.M.A. at the State University of New York at Stony Brook.
Murasugi has performed extensively as a professional orchestral and chamber musician. She has been concertmaster of the Sorg Opera Orchestra in Ohio and the Filarmonic del Bajio in Mexico. She also has been a member of the West Virginia Symphony, Louisiana Philharmonic and Springfield Symphony. She received the National Endowment for the Arts Rural Residency Grant in chamber music and performed a recital at Museo del Prado in Madrid that was broadcast on Radio Nacional de Espana. Holding a D.M.A. from Ohio State University, she is concertmaster for the SSO.
A successful soloist and chamber musician, Barretta has performed extensively throughout the U.S. and Canada. A member of the piano faculty at Juilliard School of Music, he recently appeared at the Seoul Music Festival and Academy in South Korea. A collaborative artist, he has played with such internationally recognized musicians as baritone Christopher Robertson and trumpeter Terry Everson. He studied at Oberlin Conservatory and earned a D.M.A. from Peabody Conservatory.
A graduate of the Peabody Conservatory of Music, Paulsen has performed in France, Luxembourg, Mexico and Germany. She was awarded first place in the Wagnerian Voice division of the Liederkranz Foundation Awards and represented the United States at Zurich, Switzerland's International Opera Studio. Local audiences may know her from performances with the SSO.
Sponsored by the Office of Cultural Affairs, admission is free and the public is invited. For more information call 410-543-6271 or visit the SU Web site at www.salisbury.edu.