Monday, February 11, 2013
Dr. Robert Joyner Appointed to National Board for Respiratory Care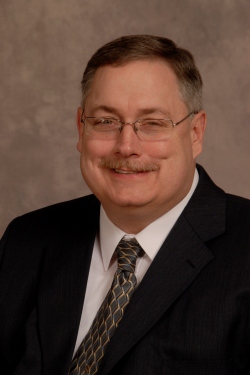 SALISBURY, MD---The associate dean of Salisbury University's Richard A. Henson School of Science and Technology has been appointed as a representative of the American Association of Respiratory Care to the National Board for Respiratory Care, Inc. (NBRC).

Dr. Robert Joyner will serve a one-year renewable term on the 31-member board for the Kansas City, KS-based organization, which provides high-quality voluntary credentialing examinations for practitioners of respiratory therapy and pulmonary function technology.

"Dr. Joyner's appointment to serve at the national level is a testament to his expertise and his leadership of respiratory and multi-professional care in the State of Maryland and region," said Dr. Karen Olmstead, dean of SU's Henson School.

Created in 1960 to evaluate the professional competence of respiratory therapists, the NBRC has issued over 350,000 credentials since its inception. It currently tests nearly 40,000 candidates annually, and its credentialing exams are the standard for licensure across the U.S.

Joyner earned a B.S. in respiratory therapy from SU in 1991 and a Ph.D. in cardiovascular physiology from Dartmouth Medical School in 1998. He returned to join SU's respiratory therapy faculty that year, and became program director in 2003. He was named associate dean in 2011.

A licensed respiratory care practitioner, Joyner has recently published articles in the American Journal of Respiratory and Critical Care Medicine and Coalition Chronicle, a publication of the Coalition for Baccalaureate and Graduate Respiratory Therapy Education.

In addition to providing high-quality standardized exams for practitioners, NBRC seeks to advance medicine by promoting the use of respiratory care in treating human ailments.

For more information, call 410-543-6030 or visit the SU Web site at www.salisbury.edu.