Monday, February 11, 2013
SU Environmental Studies Students Discuss Internships Wednesday, February 13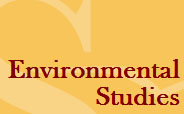 SALISBURY, MD---What is it like working on an organic farm? Establishing old growth forest preserves? Working in a soil test lab? Interning at the Assateague Coastal Trust?

Internships are a pivotal part of Salisbury University's Environmental Studies (ENVR) program, providing real-world experiences and exposing students to what is often their first professional relationship. ENVR students who undertook fall internships discuss their work at the "Environmental Studies Fall Semester Experiences" presentation 7 p.m. Wednesday, February 13, in Henson Science Hall Room 211.

Senior Amy Bennett of Freehold, NJ, spent her semester working with SU professor emeritus Joan Maloof, expanding the number of protected forest sites in her Old Growth Forest Network. Sophomore Veronica Petrik of Belair, MD, spent her semester just down the road from SU helping the Calliope Organic Farm grow vegetables and serve its Community Supported Agriculture members.

Senior Staci Warrington of Milton, DE, learned the protocols for testing soil, plant and manure samples at Agrolab in Milford, DE, and ended up being her supervisor's right-hand employee. Junior Erin Jones of Baltimore created a hybrid internship, working closely with the Assateague Coastal Trust.

Senior Megan Fisher of Trappe, MD, interned with Maryland Department of Natural Resources botanist and ecologist Wes Knapp, exploring rare plant and animal species. While conducting site surveys, she catalogued nutria damage in marsh areas, staffed deer check-in stations, and examined mussel and tundra swan populations, among other duties.

Sponsored by the Environmental Studies Department, admission to their discussion is free and the public is invited. For more information call 410-543-6030 or visit the SU Web site at www.salisbury.edu.