Thursday, August 21, 2008
'U.S. News', 'Princeton Review' Rank SU Among Nation's Best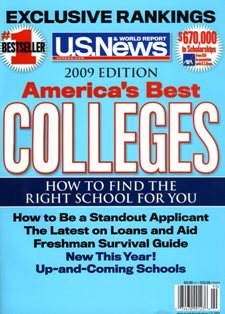 SALISBURY, MD---Salisbury University students returning to campus next month have something to celebrate—the University is again ranked among the top schools in 2009 national college guidebooks.
In U.S. News & World Report and The Princeton Review, SU places high among its peers. For the 12th consecutive year, SU was named one of U.S. News' Top Public Universities—Master's category (North). Ranked at No. 7, SU maintains its status as the highest-placing public Master's-level university in Maryland.
"We are proud that Salisbury University has consistently been ranked one of the top institutions of its kind in U.S. News for more than a decade," said SU Provost Tom Jones. "This is external validation of the quality, hard work and dedication of our faculty and staff that allows us to continually attract outstanding students."
The 572 universities in the Master's category are split among four geographic areas—North, South, Midwest and West. In the northern region, SU ranked 35 among 171 publics and privates.
Other institutions in the Top Public Universities—Master's category (North) include The College of New Jersey (1), SUNY College of Arts And Sciences—Geneseo (2) and Rutgers—Camden (3). The other Maryland campus on the list was Towson University (tied for 8).
U.S. News uses several criteria to measure academic quality including academic reputation, graduation and retention rates, financial resources, faculty resources, student selectivity, and alumni giving.
For the 10th consecutive year Salisbury University also is ranked as one of the nation's best colleges in The 368 Best Colleges by The Princeton Review.
The Princeton Review's list is compiled through a combination of statistical analysis, campus visits and student surveys which the authors characterize as "qualitative and anecdotal rather than quantitative and scientific." Its rankings represent the top 15 percent of colleges and universities, both public and private, in the nation.
In the 2009 rankings, SU also was named one of The Princeton Review's "Great Schools for Communications Majors."
For more information call 410-543-6030 or visit the SU Web site at www.salisbury.edu.