Friday, August 22, 2008
SU Freshman Focuses on Healthy Food, Living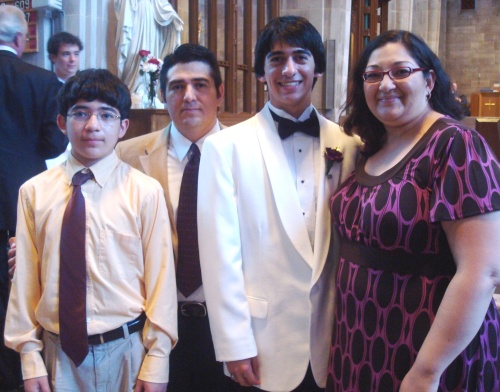 SALISBURY, MD---There are two people who inspired Salisbury University freshmen Vincent Gutierrez to study health and nutrition in college: a high school biology teacher who sparked his interest in the subject—and his grandmother.
"My grandmother passed away in February and all of the things that were wrong with her, all of the illnesses and ailments, could have been prevented by living a healthier lifestyle," Gutierrez said. "She wasn't there for my graduation from Mount Saint Joseph High School and she would have been so proud to see me walk across the stage at the top of my class. I want to make sure that someone else's grandmother is there for that."
His biology teacher taught with an enthusiasm that made Gutierrez want to go to class and learn, so much so that he even enrolled in Advanced Placement (AP) Biology.
This fall, Gutierrez, 18, of Elkridge, MD, will not only pursue his interests as an Exercise Science major at SU, he will also work 20 hours each week as an undergraduate intern for SU's Healthy U of Delmarva program. He said he looks forward to helping the organization grow within the University and the Salisbury community.
"I don't smoke or drink, I eat very healthily, I exercise at the gym five days a week and I want to make sure other people see the benefits of that," he said. "It is possible to eat nutritious food that tastes good, to exercise in ways that are fun and to, in general, live better lifestyles."
"Vincent will be out and about in the community helping with various aspects of Healthy U from programming and membership enrollment to exhibits and displays," said coordinator Amy Waters, SU's director of Leadership, Giving and Stewardship.
The position builds on skills that Gutierrez has already been developing this summer while assisting with public relations for the non-profit organization Howard County Tourism, Inc., and working at General Nutrition Center (GNC) in Arundel Mills Mall. "It's another outlet for me to let people know about nutrition," he said.
A second generation Hispanic American who graduated high school with a grade point average of 4.6, Gutierrez was motivated to do well in school by his family.
"My parents had two requirements of my siblings and me, one was to get good grades and the other was to play a musical instrument," he said. He started with the violin, and then at age 9, picked up the guitar. "It helped me express myself," he said. "I moved around a lot as a kid so I didn't always have a lot of friends, but I had my guitar. Music has helped me succeed in other areas of my life." He hopes to continue playing in college through SU's Department of Music.
Martin Gutierrez said he and his wife Cynthia are perhaps most proud of their son's civic activities and concern for the community, as well as his educational accomplishments. "There's a family commitment to education," said Martin, who was the first in his family to graduate from college. "My family immigrated to the U.S. in the early '60s and it has been a big focus for us. My parents always told us that education is the way up and it has shown true for all of us."
Gutierrez said one reason he chose SU (over the five other schools he applied to) was because he felt welcomed. "SU really made me feel like I would do great and have fantastic opportunities," he said. "I already feel like my college career is off to a great start and I can only go up from here."
For more information call 410-543-6030 or visit the SU Web site at www.salisbury.edu.
/eof