Thursday, April 27, 2017
Tracy Earns SU Perdue Leadership Award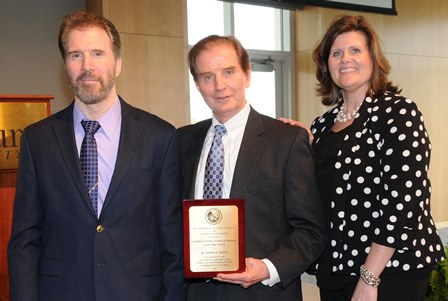 From left: Dr. Ken Smith, SU Accounting and Legal Studies Department chair; Perdue Leadership Award recipient Pat Tracy; and Dr. Christy Weer, dean of the Franklin P. Perdue School of Business.

SALISBURY, MD---Pat Tracy began his public accounting and consulting career as an intern with Baltimore's Walpert, Smullian and Blumenthal (WS&B) from 1973-76.

More than four decades later, he has amassed a career spanning some of the nation's — and world's — leading financial and accounting firms.

For his dedication to the profession, and his efforts in mentoring and providing career opportunities for Salisbury University students and graduates, Tracy recently received the Perdue Leadership Award, presented annually by SU's Franklin P. Perdue School of Business.

"We are pleased to include Mr. Tracy among the Perdue School's supporters and salute him for his long, distinguished accounting career," said Dr. Christy Weer, dean of the Perdue School. "We are proud to count many SU alumni among the employees he has recommended and hired, and we hope they, as well as our current students, will learn from the example he has set."

Following Tracy's time at WS&B, he spent eight years with Arthur Andersen & Co., returning to WS&B in 1984. Following a series of sales that saw the company owned by American Express Tax & Business Services, H&R Block and then RSM McGladrey (now RSM US LLP), his regulatory team formed Risk & Regulatory Consulting, Inc. (RRC), a provider of services to state and federal regulators.

RRC is the premier consultant serving state insurance departments in the U.S. and a strategic partner with RSM US LLP (RSM) on matters in which they do not have conflicts. RSM is the nation's leading provider of audit, tax and consulting services to the middle market. Both are SU supporters.

Tracy said he has seen "numerous name changes, but consistency when it comes to people I have worked with. I love coaching and developing people. I also feel a strong commitment to educational endeavors — both traditional schools and alternative approaches. Helping future generations is the ultimate in paying it forward.

I have been focused on people every step of the way — both members of my team and clients. Making deposits in the goodwill account of the people you touch every day is a great way to generate long-term success."

That belief has stretched beyond Tracy's professional career. A graduate of Baltimore Polytechnic Institute (POLY), he learned during his 10-year reunion in 1982 that the school's resources were stressed. With a classmate, he created the Baltimore Polytechnic Institute Foundation, unique at the time for a public high school. He continues to be involved in the foundation, and the structure established for POLY was used to provide similar support for the Baltimore School for the Arts. Tracy was inducted into POLY's Hall of Fame several years ago.

In addition, he is a supporter of several athletics organizations that use sports as a tool to mentor children, including Choo Smith Youth Empowerment, the Cal Ripken Foundation, Baltimore SquashWise and the Western Golf Association Evans Scholars Foundation.

He also supports the SU Accounting and Legal Studies Department (chaired by his former college classmate, Ken Smith); the accounting program at his alma mater, Towson University; and Baltimore's Notre Dame Preparatory School, from which his daughter graduated. Tracy was the inaugural recipient of Towson's inaugural Outstanding Accounting Alumnus Award.

The name of each year's Perdue Leadership Award winner is engraved on a plaque in the Perdue School. Each honoree also receives a commemorative award.

For more information call 410-543-6030 or visit the SU website at www.salisbury.edu.