Thursday, October 23, 2014
Third Round of Ratcliffe Shore Hatchery Presentations Set Friday, October 24, at SU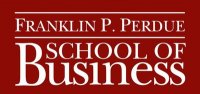 SALISBURY, MD---The third round of a five-year, $1 million program to create new jobs begins Friday, October 24, at Salisbury University as entrepreneurs vie for a portion of $200,000 in business funding.

Last year, the Philip E. and Carole R. Ratcliffe Foundation announced the $1 million gift to SU's Franklin P. Perdue School of Business to establish The Philip E. and Carole R. Ratcliffe Foundation Shore Hatchery. Its goal: to fund entrepreneurs and have new businesses opening within six months, with the potential of employing three or more within a year.

Each year for the next four years, up to $200,000 will be available for those applying for grants through the Shore Hatchery program. Shore Hatchery board of directors members select recipients based on multi-round presentations. The first $200,000 was given last year to five start-up companies in Maryland and Delaware, specializing in everything from art glass lights and technology solutions to scooters and stroopwafels (European cookies).

The 15 applicants representing various geographic territories and business sectors will compete in the third round of grants in a Shark Tank/Gull Cage contest that morning, delivering elevator pitches to the judges.

Those moving on to the business case round, scheduled to begin at 1:30 p.m. in Perdue Hall's Bennett Family Auditorium, give more thorough presentations. Winners are expected to be announced after 4:30 p.m.

Ratcliffe Shore Hatchery board members include business leaders Frank Gunion, Bruce Rogers, Dave Rommel, Laura Baker, Jean Sewell and Lili Kohr among others.

Admission to the afternoon presentations is free and the public is invited. For more information call 410-543-6316 or visit the Perdue School website at www.salisbury.edu/perdue.