Wednesday, December 6, 2017
Teen Fundraises for Scholarship in Memory of Late Eastern Shore Nursing Educator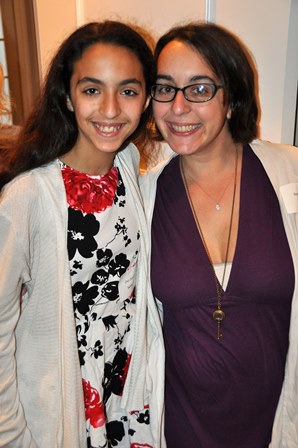 SALISBURY, MD---Betty Turner was a pioneer in nursing education on the Eastern Shore.

Holding an M.S. from the University of Maryland in the 1950s, when graduate education for nurses was a rarity, she spent 54 years in educational and leadership roles at Peninsula Regional Medical Center, later assisting with Salisbury University's Nursing Program. She was a local trailblazer in critical care nursing and helped establish emergency response system coordination with hospitals on the Lower Eastern Shore.

When she passed away earlier this year, just four years after retiring from PRMC, she left a void not only in the local nursing community, but in the lives of those who knew her.

That included 13-year-old Zoey DiPasqua, an eighth-grade student at Mardela Middle and High School whose parents, Chris and Beth, are both nurses and teach in SU's Nursing Department. Turner was a long-time family friend and a mentor to Chris, in particular. His daughter sought to make sure her legacy was not forgotten.

"She was a credit to the medical field," she said, adding, "She was like a grandmother to me."

It seemed logical that any type of memorial would reflect Turner's love of nursing and teaching. A scholarship for nursing students at SU would fill that role nicely, DiPasqua thought. It wasn't long before fundraising for the Betty Turner Memorial Nursing Scholarship began.

At first, raising the $10,000 required for an endowed scholarship seemed daunting. Soon, however, she began receiving responses from the local businesses, organizations and individuals to which she wrote — and many of them contained checks. Coupled with $2,000 of her own money, DiPasqua has collected over $5,000 through donation requests and online crowdfunding, and hopes to reach her goal by the end of the year.

Well, that goal, anyway. She has many more, including gaining acceptance to the U.S. Naval Academy after high school and serving as a career medical officer specializing in cardio-thoracic surgery. (Mother Beth practices in PRMC's cardio-thoracic intensive care unit.)

"I've always been interested in the heart and everything surrounding it," Zoey said.

Until then, the young teen stays busy as a member of Mardela Middle and High School's Red Cross Club (which she founded last year), Junior National Honor Society chapter, Math Club, and softball and cross country teams, among other interests. She has earned accolades for her dedication to her school and community, including the Wicomico County Public Schools Outstanding Student Service and Leadership Award, and Wicomico County Recreation and Parks Outstanding Community Volunteer Award.

Soon, likely before she enters high school, she can add "scholarship endower" to that growing list, as well.

To donate to the Betty Turner Memorial Nursing Scholarship Fund, visit https://salisburyu.givecorps.com/projects/26487-henson-school-of-science-technology-betty-turner-memorial-nursing-scholarship?entity_id=salisburyu.

For more information call 410-543-6030 or visit the SU website at www.salisbury.edu.