Thursday, December 7, 2017
SU Alumni Assist with Puerto Rico Hurricane Recovery Efforts
SALISBURY, MD---After Hurricanes Irma and Maria ravaged the Caribbean this fall, two Salisbury University alumni traveled to Puerto Rico to assist federal agencies with response and recovery efforts.
Stephanie D'Anna '15 is a civilian with the U.S. Army Corps of Engineers' Philadelphia District. She spent nearly two months helping the Puerto Rico Electric Power Authority restore electricity and infrastructure.
Julius Jones Jr. '06, M'09 is an executive officer for the Federal Emergency Management Agency. He is assisting its Joint Field Office with planning into December, overseeing the production and distribution of briefings, including daily situation reports, fact sheets and executive summaries. These communication items inform FEMA leadership to help them make operational and tactical decisions.
"I mostly helped map the power grid status for the island," said D'Anna, who studied earth science, geography and geographic information systems (GIS) at SU. "I tracked all the transmission and distribution lines and was doing whatever was needed with mapping to support restoration. We were looking at critical public facilities and setting priorities."
She described a breakthrough in being able to track all the circuits and feeders down to the street level, which no one else had done. The accomplishment earned her praise from a two-star general whom she was briefing.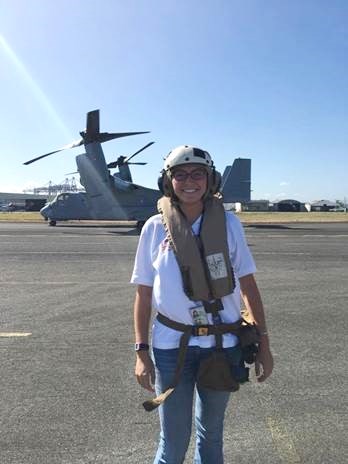 "There are over 11,000 circuits on the island and when you have just a tabular list, no one knows where things are in comparison to one another," D'Anna said. "When we map it, we can say 'this hospital is nearby,' and then we can assess what to repair first."

D'Anna had volunteered to be part of the Corps' GIS cadre that goes out in emergencies to help. Initially she went to the South Atlantic Division Office in Atlanta before being sent directly to Puerto Rico. After helping with the recovery, she thought it would be hard to go back to her regular job as a hydrographic survey tech.

"Everything you do makes such a big impact on the people of Puerto Rico," she said. "It's hard to leave knowing everything isn't back to normal." Many will be without power for a long time, she predicted.

She described seeing locals "dancing in the streets" when power was restored to a particular part of town. She added: "We always wear our Corps shirts and they will come up to us and say, 'Thank you for trying to fix our island.'"

For D'Anna, the experience has been an "eye opener."

"You appreciate everything you have even more," she said. "You never think about a disaster taking everything. For these people, their houses are destroyed, they are living in tents, they haven't had power for months, and they are so humble about it."

Jones, however, has seen disasters like this before: In eight years with FEMA, he has been deployed more than 20 times for other hurricanes and tropical storms, Missouri tornados, Mississippi River floods, the Haiti earthquake and a Pacific tsunami.

He said SU helped him develop a "solid analytical foundation which is put to work every day" as he leads efforts to distill data from interagency partners to "paint an accurate picture of day-to-day progress in the field."

D'Anna credits two of her SU GIS professors, Drs. Michael Scott and Art Lembo, with giving her a foundation to help with the recovery efforts: "I wouldn't have been able to do this without them. They taught me a lot of skills that I've been able to use to help this island. I hope they know what a difference they've made."

For more information, call 410-543-6030 or visit the SU website at www.salisbury.edu.