Wednesday, December 7, 2011
SU's Millhausen Earns Over $30,000 With Advertising Projects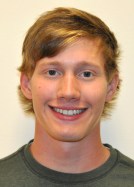 SALISBURY, MD---Salisbury University junior Max Millhausen made more than $30,000 this year. From home. In about 120 hours.

The Timonium, MD, resident, who is pursuing a B.F.A. in new media, is putting his classroom training to good use, entering — and winning — online advertising production contests. Companies host the competitions to encourage media creators to think about their products in new ways. In the end, the winning ads often are used online and sometimes even on television.

And the prizes aren't bad.

Millhausen won his first, for Acuvue's Oasys-brand contact lenses, last spring, netting $7,500 for a 30-second commercial. He starred in the ad as a young man who had to write himself multiple reminders to remove his Oasys contacts — so comfortable, he forgot he was wearing them — at night.

Since then, he has won two more contests with a 90-second spot for cost analysis advisor IHS and a 30-second commercial for Poptent Media, the company that works with advertisers to host many of the competitions. The payout: $10,000 each.

His success has led to paid commercial work outside the contests. Recently, Reed Street Productions, a Baltimore-based event planning company where his brother, Jon, is an employee, offered him $3,000 to design a Web site promoting its "Run for Your Lives" 5K. He also helped the firm's media department, Happy Go Lucky Productions, produce a nationwide commercial for the event. The race features a number of obstacles, not the least of which are zombies who chase the runners.

Millhausen estimates he spends between 15 and 40 hours working on each commercial he produces.

"Sometimes the simplest ones take the longest," he said.

All-animated spots like the one for IHS can take up to a full work week, while those shot with film can be completed within a matter of hours. A recent entry for Yellow Pages, which combines animation and live action, took about 35 to complete, including audio dubs, he said. He personally creates and records the audio for most of his work.

When Millhausen won his first contest, he filmed and edited the entry completely in his room at SU's Chesapeake Residence Hall using his laptop and a video camera his parents gave him for Christmas.

Since then, he has devoted half of his winnings to upgrading his equipment. Planned future purchases include a crane, slider and shoulder rig for his camera, as well as new lenses and audio equipment.

While these items can be quite expensive, Millhausen said some of his best resources cost nothing at all. He encouraged those interested in entering advertising competitions to watch free online tutorials to get the most from their editing software.

"There is so much creative and commercial potential in new media, especially when video, audio and animation come together to create new hybrid artwork," said Preston Poe, head of SU's new media program. "The success that Max has had is truly well deserved. This is a great example of what can happen when a student takes advantage of the tremendous opportunities available to them in the Art Department and new media courses offered at SU."

For more information call 410-543-6030 or visit the SU Web site at www.salisbury.edu.