Wednesday, April 15, 2015
SU, UMES Health Students Engage in Interprofessional Clinical Simulation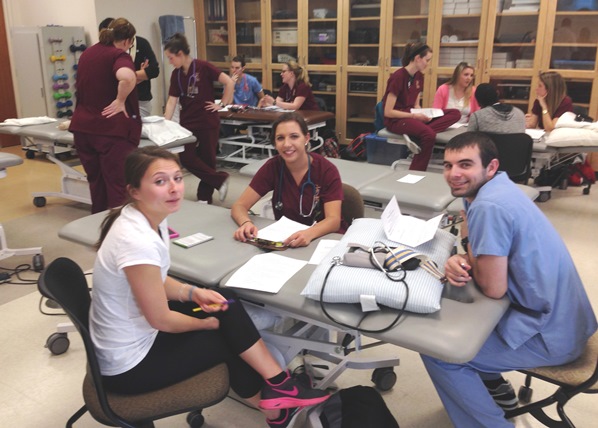 SALISBURY, MD---Nearly 100 students studying health professions at Salisbury University and the University of Maryland Eastern Shore (UMES) recently participated in an Interprofessional Clinical Simulation.

"Interprofessional education enables students from multiple health fields to learn about, from and with each other," said Dr. Katherine Hinderer of SU's Nursing Department. "We are teaching them to work effectively with other professions before they even enter the real world. Such collaboration ultimately improves health outcomes."

This collaborative event stemmed from the Eastern Shore Collaborative for Interprofessional Education of Health Care Professionals, an interprofessional committee of health professions faculty from SU and UMES. The event was held at UMES. Undergraduate and doctoral students from SU's nursing and respiratory therapy programs and UMES' physical therapy and pharmacy programs attended.

Numerous faculty were involved including, from SU, Hinderer; Dr. Robert Joyner, Richard A. Henson School of Science and Technology associate dean and Respiratory Therapy Program director; Lisa Joyner of the Health Sciences Department; and Drs. Dorothea Winter and Mary DiBartolo as well as Kim Allen, Teena Milligan and Kaynabess Freda, all of the Nursing Department. Representing UMES were Dr. Dennis Klima and Michelle Gorman of the Physical Therapy Program; and Dr. Yen Dang of the School of Pharmacy.

In the afternoon, the students worked on case studies related to Parkinson's disease, cystic fibrosis and a hip replacement. They also did an ICU patient exercise, before concluding with a tour of the UMES cadaver-anatomy lab.

"In addition to sharing resources between institutions, we want the students to gain an understanding of the roles of other health professionals and the scope of their practice," Hinderer said. "This helps remove professional silos."

Hinderer and Joyner have published on "An Interprofessional Approach to Undergraduate Critical Care Education" in the Journal of Nursing Education, and with Klima, Winter and Freda in the 2014 Respiratory Care Education Annual on "Interprofessional Collaboration Between Two Rural Institutions: A Simulated Teaching Laboratory Paradigm."

Pictured, from left, are UMES student Lauren Lee, SU nursing student Alex Pomponio and SU respiratory therapy student Justin Morris.

For more information call 410-543-6030 or visit the SU website at www.salisbury.edu.