Thursday, April 16, 2015
SU Again Named Among Nation's 'Greenest' Colleges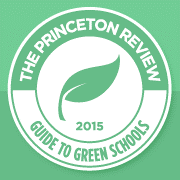 SALISBURY, MD---For the sixth consecutive year, The Princeton Review, in partnership with the U.S. Green Building Council (USGBC), has named Salisbury University one of the nation's most environmentally responsible colleges.
The University is featured in the Guide to 353 Green Colleges, which highlights impressive environmental and sustainability programs at campuses throughout the United States and select institutions in Canada.
Published in time to commemorate Earth Day on Wednesday, April 22, the guide is based on a survey of hundreds of colleges nationwide. Questions explore institutional commitment to areas including LEED building certifications, environmental studies programs, alternative transportation, recycling and conservation programs, and more.
The 353 colleges in the guide were selected based on "green rating" scores from summer 2014 online profiles and annual guidebooks. SU's rating was 94, on a scale of 60-99.
In 2008, SU's Teacher Education and Technology Center became the first LEED-certified new construction project on the Eastern Shore, earning Silver status. Since then, eight other new or renovated campus buildings have earned LEED Gold or Silver certification, including Perdue Hall, Sea Gull Square, and Pocomoke, Wicomico, Manokin, Nanticoke, Chester and Choptank residence halls.
SU is home to what are believed to have been the Eastern Shore's first public electric vehicle charging stations. Other alternative transportation initiatives include a bicycle-friendly campus, complete with "Fixit" stations and bike storage buildings for residents, and a bike lane that leads from the University to downtown Salisbury.
Offering an environmental studies major and minor, the Environmental Studies Department features award-winning faculty and staff, including famed environmentalist and author Tom Horton.
Other initiatives include a Dining Services partnership with Delaware-based Blue Hen Organics to defer about nine tons of food waste from local landfills weekly. At Blue Hen's composting facility, waste is compressed into fertilizer pellets for area farmers and SU's greenhouse. The partnership has helped SU realize a total recycling rate of more than 50 percent for the past two years.
To download the Guide to 353 Green Colleges visit www.princetonreview.com/green-guide. For more information call 410-543-6030 or visit www.salisbury.edu.