Tuesday, November 12, 2013
SU Students Win J.P.Morgan Code for Good Challenge in New York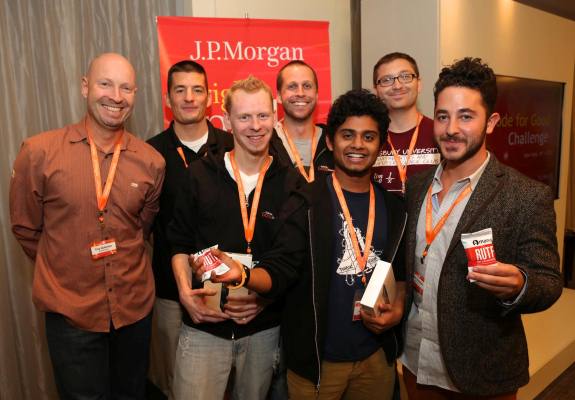 SALISBURY, MD---Four Salisbury University computer science majors took first place in the fall 2013 J.P.Morgan Code for Good Challenge in New York City.

They topped 23 other teams, including ones from Harvard and Carnegie Mellon. More importantly, they used their technical skills to help Mana, a nonprofit that produces and distributes ready-to-use fortified foods to aid malnourished children in developing countries.

Team members included Matt Thorne and Brandon Altvater of Salisbury, Rob Close of Delmar and Cale Bowen of Easton, as well as Richard Yadon from Rochester Institute of Technology and Sandeep "Sunny" Balasubramanian from Columbia University.

Together they created a Web-based social network application that individuals may use to track calories burned through exercise and, much like walk-a-thons, solicit sponsors to contribute to the charity based on the number of calories burned.

"I am truly proud of what we created, and hope that it may one day be implemented as a way to [help prevent] malnutrition," Bowen said.

"I really enjoyed being able to work with experts in multiple disciplines and hear their thoughts on the technologies and decisions we were making to implement our clients' vision," said Thorne, who discovered the challenge on the J.P.Morgan website, after meeting company representatives at an SU Career Fair.

Some 140 individuals competed in the event. The SU group applied just three hours before the deadline. Two weeks later, they were accepted from a pool of over 700. Each winning team member received an iPad mini 32G tablet.

Close credited the "rigorous curriculum" in SU's Mathematics and Computer Science Department with enhancing his ability to "think quickly and accurately" about difficult coding challenges. "The self-discipline needed to succeed in our degree path assisted each of us with completing our winning product," he added.

Altvater recalled "many small defeats" during the competition, but said his SU courses taught him that "everything has a solution; you just have to think and figure out a way to find it."

The students cited several useful topics, which they learned from their SU professors, including software engineering and user needs from Dr. Steven Lauterburg, database design from Mary Beth Flagg, computer networking and HTTP protocol from Dr. Annie Lu, and problem-solving from Dr. Sang-Eon Park.

"These students worked independently and persistently throughout the whole competition process; we are very proud of them," said Dr. Sophie Wang. The team called her one of its biggest supporters, along with Lauterburg, and credited her with teaching them the importance of collaboration.

The group members believe the experience will help open future internship possibilities and make them more viable candidates to potential employers.

Pictured above (from left) is Mana sponsor Troy Hickerson with Team 22 members Close, Bowen, Altvater, Balasubramanian and Thorne, and another Mana sponsor, Mark Shenfield.

SU's Mathematics and Computer Science Club sponsored its own programming competition in early November on campus. For more information, visit its website at orgs.salisbury.edu/math.