Tuesday, November 12, 2013
SU Alumni Benefit from First Round of Ratcliffe Shore Hatchery Funding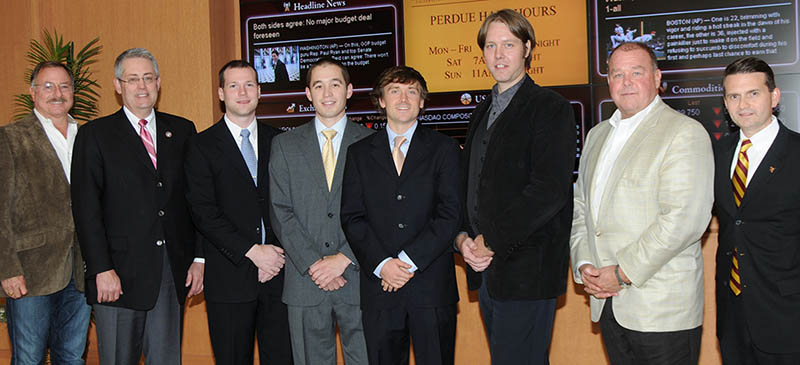 Pictured, from left: mentor Leighton Moore; Dr. Bob Wood, Perdue School of Business dean; recipients Ben Bunk, Ryan Chacon, Tim McFadden and Aric Wanveer; mentor Bruce Rogers; and T. Greg Prince, SU vice president of advancement and executive director of the SU Foundation, Inc.
SALISBURY, MD---Salisbury University recently welcomed Bernstein Business Plan Competition alumni Ryan Chacon and Tim McFadden as participants in the first round of The Philip E. and Carole R. Ratcliffe Foundation Shore Hatchery program, a $1 million, five-year initiative to assist entrepreneurs and help them create new jobs in the community.
Fundraising technology and newly developed versatile light bulbs will be the focus of the next business ventures for Chacon and McFadden. Money and mentors will help these developers take their ideas to the next level.
In 2005, Tim McFadden, then an SU student, won $5,000 in SU's Bernstein competition to open a glass blowing studio in his hometown of Baltimore. In 2010, Chacon also won $5,000 in the Bernstein competition. Last February, he and his business partner, Ben Bunk, received $40,000 from South American business accelerator Start-Up Chile to develop a social e-commerce platform.
Their two newest ventures have been awarded a combined $75,000. For McFadden, that means ramping up production of a product he and business partner Aric Wanveer created through their Zero Gravity Creations studio: the Permabulb. The twist on the traditional light bulb fuses a decorative bulb to a metal cover with an LED inside; using a patent-pending process they call Magmabond. The air-tight, water-tight result makes the bulbs more versatile than their traditional counterparts.
"It's good outside, it is good submerged, and it's good in saltwater environments," Wanveer said.
The duo hopes to use the $25,000 it received through SU's Ratcliffe Shore Hatchery initiative as seed funding to hire new employees, increase production capacity and market the Permabulb.
"We're looking to grow," said McFadden.
Since receiving the Start-Up Chile award earlier this year, Chacon and Bunk have shifted their focus from e-commerce to the needs of non-profit organizations. Their product, BakeSale, still in development, would provide an online fundraising platform.
"There's a willingness among non-profits to try new technology," said Chacon, adding that he hoped BakeSale would change the digital fundraising landscape. The judges agree; they awarded $50,000 to the venture.
Each entrepreneur earning funding through the Ratcliffe Shore Hatchery program, as well as some of the finalists who did not receive funding in this round, will receive a seasoned mentor to guide them through the growth of their ventures. Sherwood of Salisbury President and CEO Bruce Rogers, who will be one of Chacon and Bunk's mentors, is a believer in their concept.
"One of my philosophies in business is giving back to non-profit organizations," he said. "BakeSale will help us do that."
He added that he hoped the mentoring partnerships will work both ways. While offering business advice to BakeSale's principals, he expects to learn more about using digital technologies in his business.
Seacrets Jamaica USA owner Leighton Moore, who will also mentor Chacon and Bunk, agreed: "They're going to learn from someone who has started businesses, what the machinations are, and hopefully avoid the pitfalls that I have made," he said, adding that helping the startup, in turn, would allow him to see parts of the business world through fresh eyes.
The event's excitement was not limited to the two winners. The Permabulb and BakeSale were selected from seven presentations. Participants shared their ideas in a Shark Tank-style pitch session for a roomful of judges that included business leaders and Ratcliffe Shore Hatchery board of directors members. Three were chosen to make more in-depth presentations that afternoon.
While the third finalist, X-Pack, a neoprene-based hydration system for surfers proposed by SU alumnus Robert Garner and fellow Salisbury native Kevin Idoni, did not make the final cut, Dr. Bob Wood, dean of SU's Franklin P. Perdue School of Business, told the two young entrepreneurs not to give up.
"For those of you who did not win today, we want to make you better," he said as the awards were announced, encouraging the non-funded entries to take what they learned and try again. As the event was ending, a number of the young entrepreneurs were busy securing their first meetings with their mentors, hoping to tap into a wealth of experience and wisdom before returning in the spring to the second round of the funding process.
It's a lesson at least one other competitor learned years earlier at SU. McFadden's winning 2005 Bernstein proposal (which culminated in his first commercial studio, McFadden Art Glass) was a re-draft of his 2004 entry. He used the judges' feedback that year to turn his presentation into a winner.
Judges at the Ratcliffe Shore Hatchery competition said they had a difficult time deciding on the ultimate winners.
"They were very different businesses," said certified public accountant Jean Sewell. "The challenge was to understand what their concepts were and what their potential is."
Adding to that challenge was that entries ranged from products just getting started (like the Permabulb) to those literally still on the drawing board (like the X-Pack). Regardless of the products' stages of production, however, Sewell said the Ratcliffe Shore Hatchery was a great springboard.
Deborah Abbott, competition judge and Bank of Delmarva senior vice president, agreed: "It's a wonderful venue to support entrepreneurship and expand opportunities on the Eastern Shore and beyond."
Sewell added: "This is an excellent way to promote business growth and hiring."
The Ratcliffe Shore Hatchery program, administered through SU's Perdue School, is made possible by a $1 million gift from the Baltimore-based Philip E. and Carole R. Ratcliffe Foundation. According to Wood, it represents the largest gift given by the foundation to date. Its goal: to fund entrepreneurs and have new businesses opening within six months, with the potential of employing five or more within a year.
The next round of competition is scheduled for next spring, with a potential $125,000 in seed funding available. While funding is offered in the form of grants, Rogers cautioned that the Ratcliffe Shore Hatchery program is not simply giving the money away.
"It's an investment in our future," he said.
For more information call 410-543-6030 or visit the SU website at www.salisbury.edu.