Tuesday, March 3, 2015
SU Student Art Center Hosts 'Idiosyncrasies' Exhibit Through March 27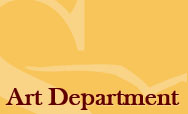 SALISBURY, MD---Salisbury University art majors Claire Dupree and Julianne Durkin, both pursuing a B.F.A. with a concentration in painting, display their works during the exhibit "Idiosyncrasies" through Friday, March 27, at SU's Student Art Center, 303 College Avenue.

Dupree's works voice her opinion of contemporary meme culture satirically, using parody and exaggeration as vehicles for criticism. She addresses themes of insincerity, narcissism and excess, aiming to construct vague narratives to which viewers may relate. She intends for her art to draw attention to the modern desire for instant gratification.



With her automatic use of line, Durkin constructs environments through which she translates ideals and impulses. Her works explore these themes intimately, creating portals to an alternative dimension in which disingenuous reality is abandoned.

Sponsored by the Art Department, admission is free and the public is invited. For more information call 410-543-6270 or visit the SU website at www.salisbury.edu.