Monday, October 22, 2012
SU Reflects on Environmental Commitment During National Campus Sustainability Day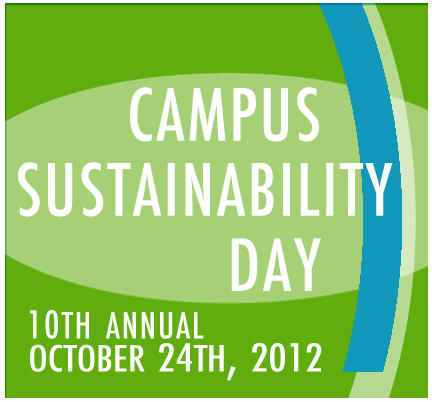 SALISBURY, MD---From a new Environmental Studies Department to programs that make it easier for students to leave a smaller carbon footprint, Salisbury University's sustainable initiatives have grown in the past year.

As colleges and universities throughout the country celebrate National Campus Sustainability Day on Wednesday, October 24, SU reflects on its ongoing commitment.

"Salisbury really has taken great strides since its dining hall recycling program began in 1990," said Wayne Shelton, director of campus sustainability and environmental safety, noting SU's sustainable roots. "Today, we have six LEED-certified buildings and a host of programs that promote environmental responsibility."

When SU's Environmental Studies Program became an official department this fall, it had more than 100 majors enrolled. The interdisciplinary department provides hands-on experiences — such as a "water's-eye" view kayaking course on the Chesapeake Bay — as well as traditional classroom education.

Students learn from faculty such as award-winning environmental author Tom Horton, and Drs. Mike Lewis and Jill Caviglia-Harris, who recently earned the University System of Maryland's prestigious $80,000 Wilson H. Elkins Professorship for projects to expand the department's student research opportunities.

They also carry what they know into the field. Environmental studies majors have interned at locales including Yellowstone National Park, the National Aquarium at Baltimore, Navajo reservations and the mountains of New Mexico. In the past three years, five have received prestigious U.S. Environmental Protection Agency fellowships.

Other programs affect the student body as a whole. A ride-sharing program, Gull Ride, recently debuted to encourage carpooling and help the SU community establish biking and walking buddies to reduce the number of vehicles traveling to campus. Nearly 200 have signed up so far. For more information visit www.GullRide.com.

As SU continues to expand, careful attention is paid to the impact of construction on the environment. Not only are all construction projects on campus required to recycle a high percentage of waste and demolition materials, but planners consider the buildings' long-term effects.

For example, keeping storm water on site, instead of draining it into a central collection unit, has become a priority that has, in some cases, required creative thinking. One solution has been to create rain gardens with native plants near new and renovated buildings. Storm water from those buildings is used to irrigate the landscaping, similar to the water management systems of a century ago.

Of course, sustainability does not stop at the doorstep. Environmentally friendly measures inside SU's buildings include everything from information technology policies — most of SU's printers are defaulted to double-sided printing to reduce paper consumption — to a partnership with Delaware-based Blue Hen Organics to compost food and paper waste from SU's Commons dining hall.

The waste is turned into pellets, which are used to add nutrients to plants at area farms and agricultural operations including SU's own greenhouses. It is estimated that during its first year — which continues into early 2013 — this partnership will have allowed SU to divert roughly one-third of its annual waste production from local landfills.

The implications are not lost on SU's Student Government Association, which hosts an annual "Recycle Madness" event, encouraging students to drop off recyclables at a central collection spot. Prizes often are offered to campus groups that turn in the most recyclable trash.

These are just a few examples, Shelton said: "SU's commitment to the environment continues long beyond Campus Sustainability Day."

For more information call 410-543-6030 or visit the SU sustainability Web site at www.salisbury.edu/sustain.