Friday, October 19, 2012
Cancer Society Seeks SU Volunteers for Study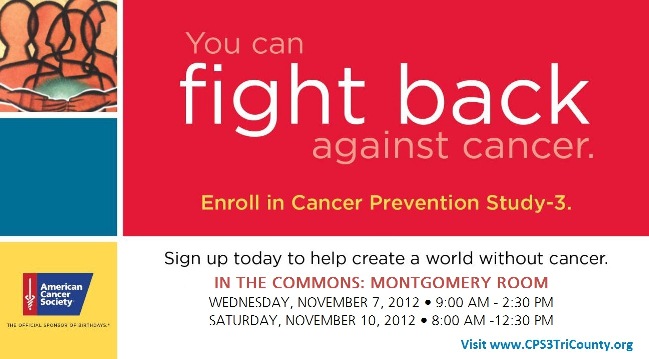 SALISBURY, MD---Area residents, including Salisbury University employees, have the opportunity to participate in a major American Cancer Society study expected to reveal new insights about the disease.
The ACS is asking SU employees and community members to enroll in this nationwide Cancer Prevention Study-3.
Study volunteers must be between ages 30 and 65, free of a cancer diagnosis (except squamous cell or basal cell skin cancer), and willing to complete periodic follow-up surveys at home for the next 20-30 years.
CPS-3 will help researchers better understand genetic, environmental and other factors that may cause or prevent cancer. Volunteers from rural regions are needed. The goal is to limit cancer as a major health problem for future generations.
As community partners, SU and its Student Health Services Office, and Peninsula Regional Medical Center, will host several enrollment periods. The SU sites are 9 a.m.-2 p.m. Wednesday, November 7, and 8 a.m.–12:30 p.m. Saturday, November 10, in the Montgomery Room of the Commons.
Walk-ins are welcome, but pre-registration for appointment times is encouraged. To sign up or learn more about the process, visit www.cps3tricounty.org.