Thursday, April 20, 2017
SU Named Among Top Universities for Professional Sales Education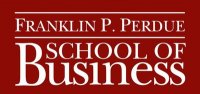 The Sales Education Foundation (SEF) has named Salisbury University among its 2017 "Top Universities for Professional Sales Education."

The accolade was announced in the foundation's annual magazine, released in April.

Dr. Amit Poddar, chair of the Management and Marketing Department in SU's Franklin P. Perdue School of Business, founded SU's Sales Program in 2015, establishing the Mid-Atlantic Sales and Marketing Institute (MASMI). The institute joined the national University Sales Center Alliance in 2016, earning full membership earlier this year.

During its first year, the program had 14 enrolled students and no dedicated classes or faculty. Today, some 75 students are enrolled, and the program has two dedicated faculty members and six classes in three sections. SU also has added a sales minor for business and marketing students.

"To be ranked by the Sales Education Foundation in only our third year of the program is a great honor, speaking to the dedication and success of Dr. Poddar and the marketing faculty, and our students," said Dr. Christy Weer, dean of the Perdue School. "Those enrolled in the program are not only getting a top-flight sales education, but through the MASMI, they are making direct connections with potential employers, often receiving offers even before graduation."

Other institutions ranked by the SEF include Clemson and James Madison and Texas A&M universities, the University of North Carolina and the University of West Virginia. SU is the only Maryland school on the list of 120 campuses in North America and 17 more globally.

"Candidates from these programs are more prepared to align with their initial sales roles and to compete in the ever-changing global economy," said Sally Stevens, SEF executive director.

According to the foundation, some 60 percent of all business majors and 88 percent of marketing majors begin their professional careers in sales-related jobs, making programs like SU's even more important.



For more information call 410-543-6030 or visit the SU website at www.salisbury.edu.