Tuesday, November 27, 2012
SU Geography Students Assess Damage from Hurricane Sandy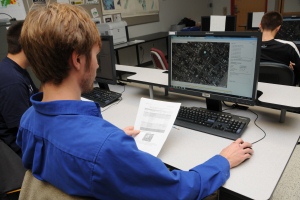 SALISBURY, MD---As the East Coast continues its recovery from Hurricane Sandy, some 50 Salisbury University geography students have assisted with storm damage assessments.
Working around the clock in Henson Science Hall on the weekend following the storm, the team, led by four graduate students, examined before-and-after Google Earth aerial images of New York, New Jersey and Connecticut. They labeled damage to homes and buildings on grids using a four-level classification provided by the Federal Emergency Management Agency. They also compared photographs to determine how high water levels rose.
Their data was immediately shared with ImageCat, Inc., an international risk and disaster management company contracted by New Light Technologies, Inc. of Washington, D.C., to support FEMA's effort. ImageCat compiles the data with other teams' to help provide the federal government with an overall damage assessment.
According to Dr. Arthur Lembo, project coordinator, SU was the largest contingency to assist ImageCat and the company paid students for their time.
"We used to seek out these kinds of opportunities to give our students real world experience," said Lembo, faculty in SU's Geography and Geosciences Department and technical director of SU's Eastern Shore Regional GIS Cooperative. "Now, in the last few years, the reputation of our students has grown so much that organizations seek us out."
SU students engaged in similar damage assessment work when an earthquake struck Haiti in 2010.
Alexander Nohe, one of four GIS Management grad students spearheading the project, said he appreciated being able to apply technical and managerial skills he learned at SU.
"Large organizations can work in unison on disasters," said the Bel Air native. "Damage did not look that bad here, but seeing aerial views [of states further north] really opened my eyes to what happened. This project is definitely a resume builder; it shows employers that I can be useful in working in a stressful environment with minimal information."
The other student managers are Chapman Cole of Annapolis, and John O'Brien and Eric Flint, both of Salisbury.

"This is a great chance to manage a diverse group of people," O'Brien said. "You always learn from projects like this, especially when you can get your hands on real data and work under a deadline."

Cole added: "It's a good feeling to know we are helping further educate FEMA on the damage so they can provide necessary assistance to those affected as soon as possible." Flint noted the importance of collaboration between organizations in order to effectively collect, compile and analyze data.

The undergraduate participants are from SU's Geography and Geosciences Department and have taken a map interpretation and analysis course.

"This project is a wonderful opportunity for SU students and faculty to aid fellow citizens who were hit by Hurricane Sandy," said Dr. Karen Olmstead, dean of SU's Henson School of Science and Technology. "By providing much needed technological and analytical support, they are helping others and gaining practical experience. I am so pleased with the Eastern Shore Regional GIS Cooperative and geography program's real-time assistance with the impacts of the storm."

For more information, call 410-543-6030 or visit the SU Web site at www.salisbury.edu.