Friday, January 29, 2016
SU Chemistry Professor Earns Patriot Award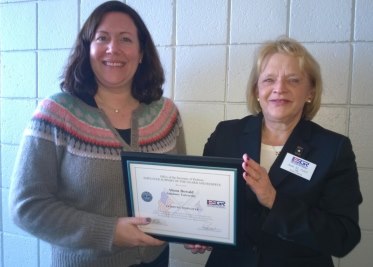 SALISBURY, MD---A Salisbury University chemistry professor has been honored for her "extraordinary support" of students serving in the military.

Dr. Alison Dewald received a Patriot Award from the U.S. Department of Defense's Maryland Office of Employer Support of the Guard and Reserve (ESGR). She was nominated by Lance Corporal David Diaz, an SU junior from Gaithersburg, MD, for being highly supportive and understanding of his service in the U.S. Marine Corps Reserve.

"Dr. Dewald is always more than willing to help catch me up and never [let me] fall behind in class due to military training requirements," Diaz said. She worked with him when he needed to miss chemistry class for military obligations, he said.

According to Maryland ESGR Chair Jean Hulet, the Patriot Award recognizes individuals who "provide outstanding patriotic support and cooperation" to those who have answered their nation's call to serve because "supportive supervisors are critical to maintaining the strength and readiness of Guard and Reserve units."

ESGR seeks to foster a culture where National Guard and Reserve service is supported and valued by employers and other organizations.

For seven years, SU has been named among the nation's Military Friendly® Schools, and is home to a Veterans' Affairs Office that assists military students and veterans.

Pictured, from left, is Dewald and Hulet.

For more information call 410-543-6030 or visit the SU Web site at www.salisbury.edu.