Friday, October 12, 2012
SU Celebrates Family Weekend October 19-21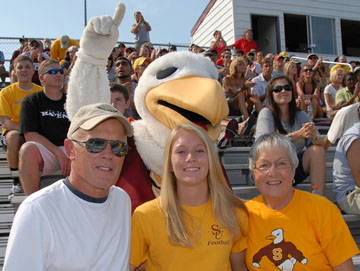 SALISBURY, MD---From talks and special dining to cultural and athletic events, Salisbury University celebrates Family Weekend 2012 from Friday-Sunday, October 19-21.

Activities begin Friday with a chance to visit open classrooms. Saturday's main events start at 9 a.m. with a legacy breakfast reception at the Alumni House (invitation only), and presentations on financial management, study abroad and off-campus living in the Guerrieri University Center. A brunch for students and families in SU's Living Learning Communities is 10 a.m.-noon on the Quad.

SU football takes on Alfred University (NY) at noon at Sea Gull Stadium. Admission is $5, $3 for non-SU students, $2 for children ages 12 and under. SU ID holders receive one ticket free. Family members may purchase discount tickets for $3 at the Guerrieri University Center Information Desk until 11 a.m. on game day. The SU Parents and Family Association sponsors a post-game ice cream social from 3-5 p.m. on the Henson Science Hall Lawn (rain location: Perdue Hall Atrium).

At 4 p.m., SU celebrates its 2012 NCAA Division III national championship men's lacrosse team with a ring ceremony in Holloway Hall Auditorium.

University Dining Services' annual "Recipes From Home" dinner is 6:30 p.m. in the Commons, featuring winning recipes submitted by parents and family members. Cost is $11.09, $6.73 for children under 5.

Saturday events conclude with a show by Plastic Musik at 8 p.m. in Holloway Hall Auditorium. This one-of-a-kind ensemble blends traditional percussion techniques with all-plastic instruments. Songs range from classical, Motown and 1980s movie themes to contemporary pop and hip-hop.

Sunday activities begin with the annual Family Weekend Challenge, a parent-student golf outing, at 11 a.m. at Green Hill Yacht and Country Club. Registration is $80 per two-person team, and pre-registration is required. To register visit http://www.salisbury.edu/parents/familyweekend.

A jazz brunch featuring the band Slim DeNunn and the High Rollers is 11 a.m.-1 p.m. Sunday in the Commons. Admission is $8.73, $4.49 for children 5 and under.

Other events taking place during Family Weekend include the Bobbi Biron Theatre Program's production of The Sin That Kills, written and directed by Dr. T. Paul Pfeiffer, at 8 p.m. Friday-Saturday and 2 p.m. Sunday in the Black Box Theatre of Fulton Hall. Set in Scotland in the early 1590s, the historical drama is based on actual court records from the North Berwick witch trials. General admission is $15, $12 for seniors and alumni. A special reduced-price ticket is available for Family Weekend visitors who attend with their student. For tickets call 410-543-6228 or visit www.salisbury.edu/theatreanddance.

University Galleries exhibits featured during Family Weekend include "Daily Practice," featuring works from Chicago's Plural Design in the University Gallery of Fulton Hall, and "Baggage Allowance," a new media and audio installation by artist Pamela Z in the Electronic Gallery, Teacher Education and Technology Center (TETC) Room 128. All are open from noon-5 p.m. Saturday.

The SU Bookstore is open for Sea Gull shopping throughout the weekend. In addition, Adrenaline High hosts a series of "Discover Delmarva" kayak trips during the weekend. Excursions leave from the Guerrieri University Center parking lot. Cost is $35 per person, and pre-registration is required. For more information call 410-749-2886 or 732-425-6454, or e-mail adrenalinehigh@comcast.net.

For more information, including a full schedule of events, visit the Family Weekend Web site at www.salisbury.edu/parents/familyweekend.